LG Introduces Worlds First EPG-equipped DCR TV to US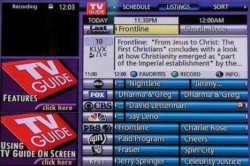 Seoul, Korea - LG Electronics has unveiled digital cable-ready (DCR) TVs in the U.S. market, spurring its inroads into the North American market which represents 40% of the world's digital TV demand.
LG Electronics has started to sell digital cable-ready 42-inch PDP TVs at Best Buy, the U.S.'s largest electronic goods sales chain. The DCR TV dubbed Plug & Play does not require a set-top box and can receive digital broadcasts by inserting a cable card and connecting it to cable.
As of July this year, 50% of 36-inch DTV models and over produced by digital TV manufacturers for sale in the U.S. are required to be digital cable ready in order to penetrate the world's largest digital TV market. This mandate is in accordance with the U.S. Federal Communications Commission's regulations on digital cable-ready TVs released in 2003 stating that terrestrial and digital cable TVs should be equipped with terrestrial and digital cable broadcast-receiving tuners and cable cards. Starting in July 2005, all 36-inch TVs and over are required to do so, all 25-inch TVs and over are mandated to do so starting in June 2006, and all 13-inch TVs and over are obliged to do so starting in July 2007.
Thus, with North America's digital broadcasting being activated and with digital TV demand growing strongly, LG Electronics' unveiling digital cable-ready TVs in the United States will ensure market success and boost its basis to aggressively make inroads into it.
Meanwhile, the digital cable-ready PDP TV, introduced this time, is world's first to be equipped with U.S. Gemstar's EPG (Electronic Program Guide) service, enhancing U.S. users' convenience in watching TV.
In particular, as LG Electronics has introduced EPG-equipped DCR TVs ahead of its competitors, and expects to strengthen its product line-up, the company has proven its digital TV technological prowess. The global electronics giant also is well positioned to preoccupy the U.S. digital TV market, and has effectively partnered with Best Buy, North America's number-one specialty retailer of consumer electronics. The unveiling is a sign of great significance for LGE.
LG Electronics CTO President W. H. Paik said, "With the unveiling of EPG-equipped digital cable-ready TVs, LG Electronics, having exclusive technological power in the core ASIC area, will spur its efforts to leap as an all-round digital TV leader."
In April, LG Electronics earned digital cable-ready standard certification from the U.S. cable technology standard certification agency CableLabs, the first of its kind worldwide, along with Sony and Hitachi. LG Electronics is now better positioned to make inroads into the North American digital TV market, as it unveiled the world's first EPG service-equipped DCR TV, a true digital cable-ready TV.
EPG (Electronic Program Guide)
EPG is a service that shows broadcasting schedules on the TV screen through data broadcasting via an empty frequency band or a leisurely channel.

A TV viewer can use the EP service through a remote-control, and know broadcast program schedules days in advance. If a viewer selects a desired program, they can get more detailed program information. A viewer can also choose and make a request for recording a program on the EPG screen. U.S. Gemstar Development Corporation is the leading EPG Company and holds many patents on EPG.

About LG Electronics, Inc.
LG Electronics, Inc. (CEO: S.S. Kim, 06657.KS) was established in 1958 as the pioneer in the Korean consumer electronics market. The company is a major global force in electronics and information and communications products with more than 64,000 employees working in 75 overseas subsidiaries and marketing units around the world. With annual total revenues of more than US$29.9 billion (consolidated), LG Electronics comprises three main business companies: Digital Display & Media, Digital Appliance and Telecommunication Equipment & Handset.

The LG Digital Display & Media Company provides core technologies for cutting-edge digital products and is a world leader in digital display products including plasma TVs, LCD TVs and monitors, and digital high-definition televisions (HDTV). The Digital Display & Media Company also provides digitally integrated products such as AV systems, optical storage, set-top boxes and home servers and is focusing on next-generation businesses such as home and mobile networks.

LG Electronics' goal is to enable the intelligent networking of digital products that will make consumers' lives better than ever. For more information, please visit www.lge.com