LG Electronics Produces Worlds Largest Plasma Display Panel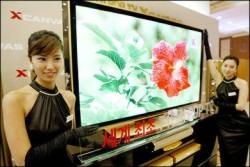 SEOUL (AFP) - South Korea's LG Electronics said it had embarked on production of the world's largest plasma display panel (PDP) flat television screen.
LG said the 71-inch PDP television would sell to domestic customers for 80 million won (75,500 dollars) in a package which will include a home theater system and a set-top box.
The electronics giant plans to sell the new product overseas on a pre-order basis.
"We will launch a target marketing campaign for rich consumers around the world," LG said in a statement.
LG display sector president Woo Nam-Kyun said the new screen would help the company "solidify its global leadership in flat-panel displays."
The world's third-largest PDP-maker aims to grab a 30 percent share of the global PDP module market by 2005.
LG has been engulfed in a row over display panel patents with Japan's Matsushita Electric Industrial. Matsushita has demanded that LG pay royalties for using its patented technology.
The dispute underlines the growing rivalry between Japanese and South Korean firms in the global PDP market.