LevelUp Announces Versus Gaming Storage Products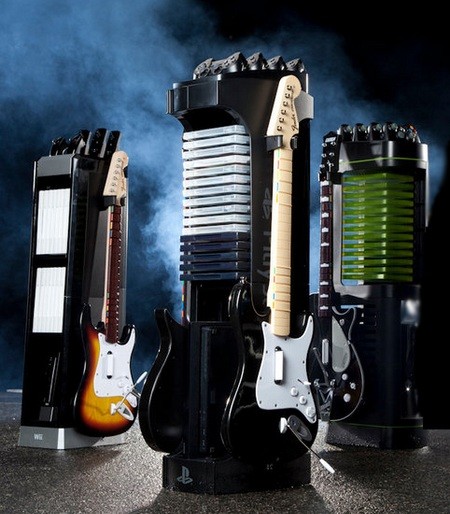 LevelUp Versus Gaming Storage
LevelUp, the only company making officially licensed storage solutions for Wii, Xbox 360, DS, PlayStation and Rock Band, is thrilled to announce its Versus and Element gaming storage products, now available in Toys R Us stores nationwide. The unveiling of these ground-breaking gaming storage solutions, now part of LevelUp's 40+ product collection, also coincides with the company's new website launch: www.levelupgear.com. 
The Black Versus Storage Ottoman complements any room style, while secretly stashing 32 games/DVDs and other gaming goodies.  For $29.99, you can kick your feet up on these plush microfiber ottomans with solid wood construction. 
The Versus Game Trays come in three different versions, one for each system: Wii, Xbox 360, or PlayStation. Each holds four controllers and offers other customized features that are unique to each console – e.g. the Wii tray has space for 4 Nunchuks, while the Xbox tray has space for 6 batteries. Designed to complement one another, they fit perfectly inside the Versus ottoman and are sold separately for $19.99.
"We struck a balance between cool, comfortable and functional. Our Versus line is perfect for those who want to save space without sacrificing the appearance of their gaming environment."
- Jason Lemelson, President of LevelUp
The DS Element Game Tray is also an exciting addition to LevelUp's collection of gaming storage solutions.  The sleek tray accommodates all Nintendo DS models and has molded compartments for the 2 DS handhelds, 12 DS Styluses, 20 game cards, 12 booklets, and one AC Adapter.  Perfect for families or college dorms, the Element DS Tray is priced at $19.99 to represent affordable design and convenience.
To kick off this debut, LevelUp will be giving away a Nintendo DS tray to three randomly chosen winners who:
Like the LevelUp Gear Facebook page
Email  [email protected] to confirm your entry

Contest will run through Monday, November 1st at 10PM EST.  For more information, please visit the LevelUp website, www.levelupgear.com. 
About LevelUp
LevelUp, a division of Slam Brands Inc., makes the only gaming storage officially licensed for Nintendo Wii, Nintendo DS, Sony PlayStation and Rock Band, as well as Xbox 360 compatible products.  With the many gaming consoles and accessories that are available in the market, gamers use LevelUp towers, ottomans, trays and wall-mounts to help organize and store gaming accessories smartly and with style.
darien87 posts on November 01, 2010 12:17
I think the Rock Band ottoman is pretty cool. It's definitely a pain in the *** getting my guitars and drums out of the closet every time I want to play. I don't see where it lists the dimensions on the site though.
Post Reply