Level Up Unveils 4 All-in-one Gaming Storage Solutions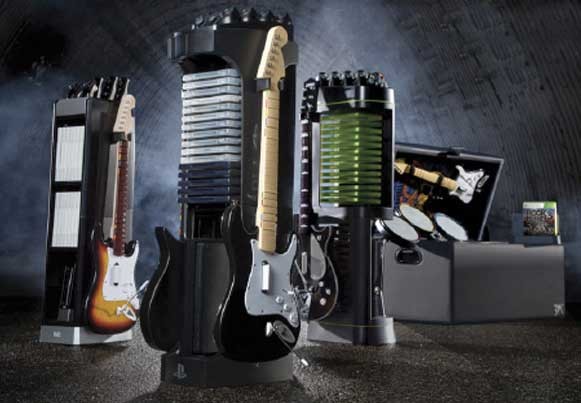 Level Up All-in-one Gaming Storage
Level Up, a division of Slam Brands, Inc, unveils four of its officially licensed all-in-one gaming storage solutions: the Alloy for PlayStation, Zig-Zag for Xbox 360, Aperture for Wii, and Trideca for Wii.  The product line's uniquely tailored design elements help users neatly store gaming gear, including consoles, controllers, and games, in one sleek and compact tower.
"The concept behind LevelUp is simple: gaming gear shouldn't clutter the home," said Jason , Lemelson, President of Level Up.  "Our line of affordable towers makes it easy for every day consumers to keep their accessories in a functional tower that looks cool in any entertainment or gaming environment."
All products offer easy snap-together assembly and various ventilation designs to prevent your console from overheating and slowing performance.  The Alloy, Zig-Zag, Aperture, and Trideca towers' key features include a molded controller dock and soft-coated guitar hooks for gaming guitar controllers used in Guitar Hero or Rock Band, as well as ribbed shelves for storing game or DVD cases.  They are available in a glossy black or white finish with silver, green or matte black accents, so as to complement each tower's designated console.
Level Up's products are now exclusively available in well-known national retailers, including Toys R Us, Bed Bath & Beyond, Kohl's and JCPenney. For more information, please visit www.LevelUpGear.com or for the latest industry news and contests, visit their Facebook and Twitter pages.
About Level Up
Level Up, a division of Slam Brands Inc., makes the only gaming storage officially licensed for Nintendo Wii, Nintendo DS, Sony PlayStation and Rock Band.  With the many gaming consoles and accessories that are available in the market, gamers use Level Up towers, ottomans, trays and wall-mounts to help organize and store gaming accessories with grace and style. Check out Level Up's Facebook and Twitter pages for exciting gaming news and product giveaways.
Nugu posts on September 11, 2010 09:17
For a storage solution it sure doesn't hold many games….
j_garcia posts on September 10, 2010 11:42
If they just made them a little simpler looking and did a better job of concealing things, they might work. How many dude's woman are going to let them put one of those in the living room? Has to *not* look like what it is for it to fly.
its phillip posts on September 09, 2010 20:15
Yeah, they aren't very attractive. I wouldn't mind a nice black wood shelf with a drawer or two on top with holes routed for charging cables to store controllers in and a glass door over the shelves for the games. Something like this, but not as crappy:


j_garcia posts on September 09, 2010 18:22
I think it is a decent idea, but they are all fugly.
its phillip posts on September 09, 2010 15:09
They should make one big enough for all 3, with room for charging docks or built in chargers :/
Post Reply