Packers' Lambeau Field Gets Audio Upgrade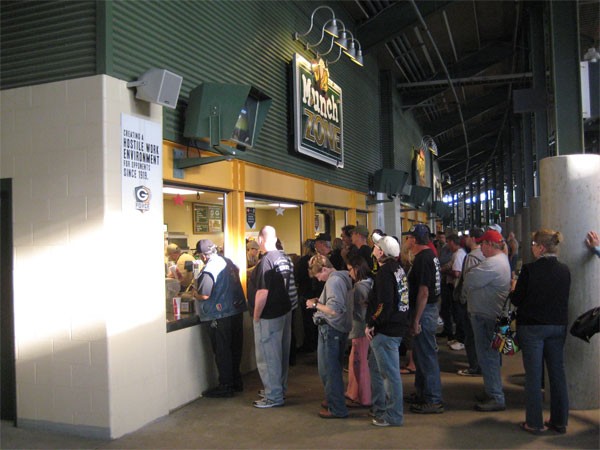 Lambeau Field audio upgrades
An article in Commercial Integrator this week outlined some huge improvements made recently to the Green Bay Packers' Lambeau Field. The redevelopment was initiated for the stadium's 50th anniversary, and the changes include quite a bit of technology that might make some folks who spent upwards of $3000 per ticket wish the Super Bowl was being held there instead of Texas. Want to know how big the changes were? The stadium was ranked as the No. 1 stadium experience in the NFL and the eighth-best facility in the world to see a game according to Sports Illustrated (who you'd think would know about these things).
From the article:
While the stadium's original classic seating bowl was preserved, the rest of the park's infrastructure has been revamped, including an audio system upgrade that includes Community Professional Loudspeakers' WET and R-Series weather-resistant loudspeakers. According to Mark Plopper of Green Bay-based Made Ya Look Productions, the company behind the audio system design, the Community R-Series had been tested and proven. The stadium's concourse is covered by more than 120 of Community's R.25 two-way 8-inch weather resistant loudspeakers. As head tech Dan O'Brien explained, the Community loudspeakers solved a persistent challenge in the space. "There's a tremendous amount of ambient noise along the concourse. It's a very reverberant space, and you've got the sound from the field mixing with the sounds of the vendors, bathrooms and people milling around. The previous system was fine for background music, but important announcements couldn't cut through the ambient noise."
The system is configured as multiple 70 volt distributed zones, each covering a dedicated section of the multi-level concourse, with 12 to 14 loudspeakers per zone. QSC PL-Series amplifiers power the system. "The R.25s were so much more efficient that we didn't have to upgrade the existing power amps," said O'Brien.
Community's WET Series W2-312 three-way boxes cover the stadium's outdoor facade, as well as providing fill within the bowl. And WET Series loudspeakers and subwoofers are installed as part of the Tundra Tailgate Zone, a portable sports bar in the parking area that provides a season-long indoor tailgate party.
Tell you what, I feel like heading up to Lambeau Field after that description. As a veteran of Vets Stadium in Philadephia back in the day, this sounds like a paradise for football fans.
CaW posts on February 14, 2011 16:58
Clint,

As a member of a family that holds Packer season tickets, Lambeau is a field that must be visited by every football fan. The stadium has experienced a huge facelift in the last decade but they kept that historic feel. On the plus side the football team is pretty good again too
Post Reply