Klipsch Develops In-Wall THX Ultra2 Custom Home Theater System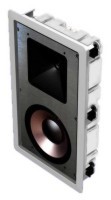 INDIANAPOLIS - March 20, 2006 - Klipsch is introducing in-wall versions of its THX Ultra2 custom home theater system. Engineered to bring real cinema sound to the comforts of home, the new KL-7800-THX in-wall LCR and KS-7800-THX in-wall surround offer the ultimate performance in hidden solution loudspeakers.
THX Ultra2 certification indicates that the speakers work well with multi-channel music and movie presentations playing up to reference levels in rooms of 3,000 cubic feet or larger. The KL-7800-THX and KS-7800-THX deliver the same high-output, low distortion signature sound as their traditional enclosure counterparts.
The KL-7800-THX features an 8-inch aluminum woofer and a 1-inch titanium-dome compression driver mated to a square Tractrix® Horn. This advanced horn design dramatically increases efficiency and allows the loudspeaker to produce more output using less energy. The KL-7800-THX also has a back box enclosure, making its response predictable and repeatable. Because the back box fits nicely within the speaker's footprint, the KL-7800-THX can easily be installed into new or existing construction.
The KS-7800-THX produces a smooth, seamless broad distribution of sound by employing an 8-inch aluminum woofer and two vertically-stacked square Tractrix Horn tweeters in a Wide Dispersion Surround Technology™ array. This unique horn design incorporates the same patent-pending technology as the company's new WDST in-wall surround but on a larger sonic scale.
WDST is the industry's no-compromise approach to surround speaker design because it offers both rich, immersion surround sound and precise localization of individual effects from a speaker that has much more placement flexibility than conventional designs. The KS-7800-THX also features the same back box enclosure design as the KL-7800-THX.
These THX in-wall models can create a complete THX Ultra2-certified in-wall system when installed with Klipsch's KW-120-THX subwoofers and KA-1000-THX subwoofer amplifier. They can also be mixed and matched with the Klipsch THX Ultra2 box product.
Slated to hit the residential contracting market this spring, the KL-7800-THX and KS-7800-THX are priced individually at preliminary U.S. MSRPs of $1,000 and $750 respectively.
About Klipsch Audio Technologies
Klipsch Audio Technologies, a wholly-owned division of the Klipsch Group, Inc., is a leading global manufacturer of high-performance loudspeakers and other entertainment products for the consumer and professional markets. Established in 1946, Klipsch celebrates its 60th anniversary this year, and continues its legacy of developing products that utilize unique, proprietary horn-loaded technology to create the most engaging, emotional and dynamic entertainment experiences. Acquired from company founder Paul W. Klipsch by Fred S. Klipsch and Judy L. Klipsch in 1989, Klipsch has worldwide headquarters and Audio Engineering and Technology Center in Indianapolis; European headquarters and a distribution center in s'Heerenberg, Netherlands; manufacturing facilities in Hope, Ark; and distribution centers in Buena Park, Calif.; Toronto, Canada; and Shen Zhen China. For more information, please visit http:/www.klipsch.com.