Would You Buy a KISS-Branded TV?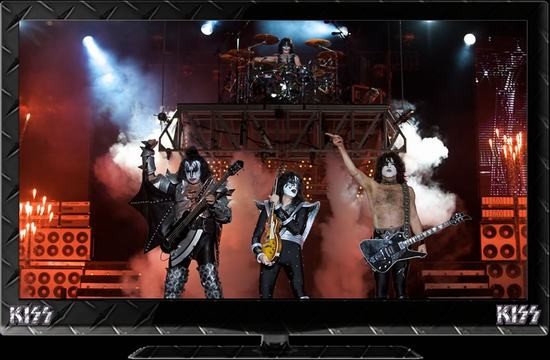 Would you buy a KISS TV?
Would you buy a KISS-branded TV? Roundtable Concepts is betting that 15,000 fans will. The new KISS LED HDTVs will ship in four sizes ranging from 32-55 inches. But get this - the company is also offering a deal: If a customer buys one of the 55-inch LCD TVs for the retail price of $1,988.88, Roundtable will throw in a 32-inch LCD TV for free. That's actually... not too bad of a deal. Each KISS TV will come with a special "diamond finish" that also includes the official KISS logo. When users turn on the screen, they will be greeted with an image of the band for 8 seconds while the TV boots up.
The LED HDTVs are designed by Roundtable and built through a Chinese OEM partner. The listed specifications include a display resolution of 1,920-by-1,280, brightness of 450 lumens, static contrast of 5000:1, dynamic contrast of 5,000,000:1, and RCA, components, VGA, and HDMI inputs. All feature edge-lit LED lighting.
The 55-inch model includes 240-Hz technology, plus four HDMI, 2 USB, 1 component video, 1 composite video, 1 PC, and 1 RF connector. It also has a pair of 10-watt speakers.
Features & Specs
1,920-by-1,280
Brightness: 450 lumens
Contrast: 5000:1 (static); 5,000,000:1 (dynamic)
Inputs: RCA, component, VGA, HDMI
Backlight: Edge-lit LED
Video processing: 240Hz (55-inch); 120Hz (46-inch)

Audio: 2 x 10W speakers
While Roundtable will sell the 55-inch model for $1,988.88, the company will sell a 46-inch, 120-Hz model for $1,388.88. A 42-inch model is available for $1,188.88, while the 32-inch version costs $818.88. The company will provide free shipping for the KISS TVs.
Roundtable is the same company that licensed the rights to make Marvel comic book-branded TVs and they have apparently come to an agreement to begin selling themed TVs with Paramount Pictures.
manofsteel2397 posts on October 03, 2010 10:20
efzauner, post: 755816
The amazing world of brand recognition.
Take a cheap made in china commodity… put a well known name on it. Sell it at a premium price.
You gotta hand it to the marketeers…
Who wouda thought 35 years ago that the KISS name would be on a Flat panel TV in your living room!
Will it lick my floor clean? Wait a minute…hide that thing…its obscene!
well nothing suprises me with kiss they are the king of marketing hell they even have toilet paper with their name on there is not much out there that they havent put their name on……
just-some-guy posts on October 01, 2010 23:38
would i buy a KISS tv, no.

but

you guys can bag on KISS all you want. doesn't bother me = to each his own.

me, i am a KISS fan. just saw em a few weeks ago. the band was great, the sq was almost great, and i had an AWESOME time !!!
that kind of music is like NITRO in my blood ! :headbang:
Seth=L posts on October 01, 2010 23:00
What blows my mind is that Bose doesn't have televisions.

Edit: spoke too soon.

Can we get a first look on the new Bose VideoWave 46" LCD television? Please with cheese on top?



This TV is actually kinda cool.



It packs 6 low frequency drivers, with what appear to be cast baskets and over-sized magnets. Look at those little guys! I mean, it's not worth at all the asking price, but the tech is still kinda cool man.
cwall99 posts on October 01, 2010 16:58
Yeah, I'm gonna have to pass on that one too. Thanks for thinking of me, but if you really had been thinking of me, you'd realize that I don't wanna spend my television time watching a bunch of 60+ year old men running around in leather girdles and make up.
dkane360 posts on October 01, 2010 15:45
The one person on this earth who has a KISS themed man cave probably just wet himself.
Post Reply