JVC Intros Sophisti DD-3 Networked Home Theater System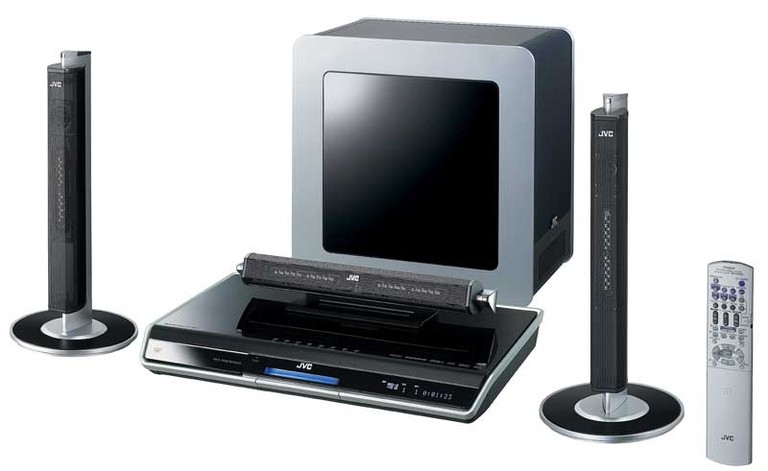 JVC Sophisti DD-3 Home Theater System
JVC was looking for a way to enhance the capabilities of it's home theater in a box systems and they seem to have done it with their new Sophisti DD-3 system. Yeah, the name is pretty cheesy (gee, you think they are trying to pitch it towards women who want a "sophisticated" product in their home?) The system includes speakers and a receiver that integrates a networked media player. That means that while it plays CDs, DVDs, and has an FM tuner, it can also connect to a PC through it's Ethernet interface.

This means that users can connect this system up to their home network and bring in music files, movies, digital images and other digital files stored on the computer to the DD-3. Once configured (it supports the typical DHCP and WEP-encrypted networks found in most homes), audio is routed through the system's speakers while video and still images are displayed on a connected television. That's right - it even does video streaming through the network. That's a neat trick for a system that costs less than $1000 retail.


Adding to the playback of digital media files from a PC, the JVC DD-3 also provides an active USB connection for playing music or even movies through the receiver as well - both audio and video. The system includes HDMI, has an on-screen user menu and the remote control doubles as a garage door opener (OK, we made that last one up).

Total system power is 220 watts - though remember, this is a 3.1-speaker system with no surrounds. Left, center and right speakers are of the low-profile type, black and silver and cylindrical in shape, and will blend in very well with any display. They can be stand or wall-mounted. The sub is cube-shaped, though narrower in depth and with rounded edges to give it a more futuristic feel (in some of the photos it looks like a small PC monitor.)

JVC employs DSP-driven "front surround technology" to deliver some surround effects through the center channel (which houses two of their "Direct Drive" systems) and without actual rear speakers.

The JVC Sophisti DD-3 is available immediately and sells for about $1,000.00.