JBL Introduces Encounter 2.1 Loudspeaker System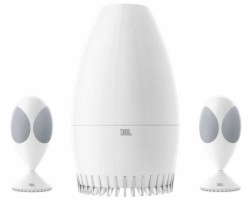 NORTHRIDGE, Calif - Dec. 20, 2004 - Harman Multimedia (NYSE:HAR), a leading provider of audio products for desktop computers, laptop computers and digital music players, today announced the introduction of JBL(R) Encounter(TM), a new subwoofer with satellites, out of this world sound system that provides consumers with a one of a kind listening experience.
Music enthusiasts can enjoy clean and powerful sound with JBL Encounter. The spaceship-like subwoofer uses Magnum-tm technology and its alien looking satellites use Odyssey-tm speakers and are compatible with any digital music player, personal CD player, laptop or desktop computer.
"JBL Encounter combines cutting-edge technology and design for a rich consumer experience," said Fred Faulkner, Vice President of Sales and Marketing. "The JBL Encounter 2.1 system joins Harman Multimedia's already popular lineup of desktop and portable speaker systems that encourage consumers to enjoy their music at home, at the office and wherever they travel."
The JBL Encounter 2.1 system comprises two powerful 13-watt Odyssey-tm satellite speakers backed by a 34-watt Magnum-tm subwoofer. The system provides a truly astounding audio experience. JBL Encounter employs easy-to-use touch volume controls and remembers the volume setting in use when the system was last shut down. The JBL Encounter 2.1 audio system also utilizes a special interconnect technology for effortless user control over volume, treble and subwoofer levels with a minimum of desktop clutter.
Pricing and Availability
JBL Encounter is compatible with all digital music players and personal CD/DVD players as well as laptop and desktop computers. Suggested retail price is $199.95. JBL Encounter will be available in early January online at www.jbl.com and at quality retailers nationwide.
About Harman Multimedia
Harman Multimedia ( www.harman-multimedia.com ), a division of Harman International Industries, Incorporated, is a leading provider of high-fidelity audio products for major computer manufacturers under the JBL(R) and Harman Kardon(R) brands. Harman Multimedia has revolutionized the multimedia audio category with award-winning and highly-praised products such as SoundSticks(R), Champagne(R), Creature(R), Duet and Invader loudspeakers, in addition to new entries JBL On Tour and JBL On Stage.
Harman International Industries, Incorporated ( www.harman.com ), is a leading manufacturer of high-quality, high fidelity audio and electronic systems for the consumer and professional markets. The company's stock is traded on the New York Stock Exchange under the symbol "HAR."
JBL, Harman Kardon, Odyssey, SoundSticks, Creature and Champagne are registered trademarks, and On Tour is a trademark, of Harman International Industries, Incorporated.