JBL Expands HTI & Soundpoint In-Wall and Ceiling Speaker Lineup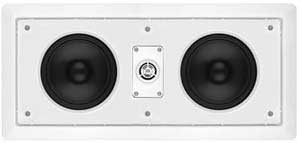 WOODBURY, NY - JBL, the leading manufacturer of professional and consumer loudspeakers, today announced the introduction of its HTI Series HTI55 in-wall speaker and SoundPoint Series SP6CS ceiling speaker, two versatile models that provide expanded installation capabilities in home theater and whole-house, home entertainment systems. The HTI55 is designed to deliver audiophile-quality sonic performance, and the SP6CS provides two-channel audio from a single-speaker configuration, making it ideal for use in applications where space is limited.
Paul Bente, president of JBL Consumer Products, pointed out: "With the introduction of the HTI55 and SP6CS, JBL is expanding its HTI and SoundPoint product lines to accommodate a wider range of home-, custom-installation-, architectural- and distributed-audio requirements. Our HTI55 was designed in response to consumer and installer demand for an in-wall speaker with higher power-handling capability, while the SP6CS answers the need for a compact, single-housing ceiling speaker with stereo audio capability. Both models excel in their respective applications."
JBL HTI55: Exceptional Sound Quality and Installation Flexibility
The JBL HTI55 is a premium-quality two-way in-wall speaker created to provide clear, powerful and dynamic sound quality in custom-installation home theater and music systems. Measuring 15-3/8 by 7-1/2 inches, the HTI55 can be mounted either horizontally, facilitating its use as the center channel of a home theater system, or vertically, for use as the left and right front speakers and for all surround channels.
The HTI55 is designed for superlative audio performance, employing a 1-inch pure-titanium tweeter that provides exceptional high-frequency clarity and detail. The tweeter operates in conjunction with JBL's exclusive Elliptical Oblate Spheroidal™ (EOS™) waveguide for a wider sound field with smooth high-frequency coverage throughout the listening environment. In addition, the tweeter is housed in a swivel-mounting system that is designed for maximum imaging and clarity, and enables it to be aimed for optimum sound distribution in any installation. Dual 5-inch high-output woofers utilize polymer-coated aluminum cones, extended-polepiece magnet structures, and butyl-rubber half-round surrounds to deliver articulate and extended low-frequency response.
The JBL HTI55 in-wall speaker carries a suggested retail price of $349 each and will be available May 2004.
JBL SoundPoint SP6CS: Expansive Two-Channel Sound, Where Space Is at a Premium
The JBL SoundPoint SP6CS ceiling speaker is a stereo version of the company's high-performance SP6C. The SP6CS provides a two-channel, single-speaker solution for a wide variety of applications where installation space is limited, yet where expansive stereo sound is desired. Measuring just 9-3/16 inches in diameter, the SP6CS is ideal for use in distributed-audio systems, and for providing stereo audio in multiroom installations in remote locations away from the main home entertainment system. The SP6CS can also be employed as a surround-effects speaker in home theater systems to reproduce two separate surround-effects channels in spaces where extra speakers cannot be installed.
The SoundPoint SP6CS features dual 3/4-inch titanium-laminate dome tweeters for smooth, detailed high-frequency response over a broad area, along with a 6-1/2-inch high-excursion, titanium-laminate woofer that provides outstanding low-frequency clarity and definition. The tweeters are mounted alongside each other in an integrated housing in the center of the speaker and rotate independently, enabling them to be aimed outward for the best stereo performance, or to create an expansive sound field when used as the surround-effects speakers in a multichannel home theater system.
The JBL SoundPoint SP6CS ceiling speaker carries a suggested retail price of $249 each and will be available May 2004.
The SP6CS and HTI55 are designed for easy, unobtrusive installation in both new homes and existing rooms. Both models are compact in overall size with respect to their driver complements. Each features integrated dog-ear brackets for retrofit installations where existing speakers are being replaced; both models are available with optional snap-together rough-in frames to facilitate preconstruction installation. The SP6CS and HTI55 are available in white with matching grilles, and the speakers' baffles and grilles can be painted to blend with any room and décor.
The Harman Consumer Systems Group (HCSG) is a leading designer, manufacturer and marketer of a wide range of high-fidelity loudspeakers, audio and video components, and multimedia systems for use in homes and automobiles, and with computers. The group's brands include JBL, Infinity, Harman Kardon, Mark Levinson, Revel, Audioaccess and Lexicon.
HCSG is a division of Harman International Industries, Incorporated. Harman International (www.harman.com) is a leading manufacturer of high-quality, high-fidelity audio products and electronic systems for the consumer and professional markets. The company's stock is traded on the New York Stock Exchange under the symbol "HAR."
# # #
Elliptical Oblate Spheroidal and EOS are trademarks, of Harman International Industries, Incorporated.