Jamo Receivers and DVD Player Preview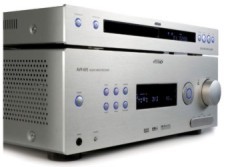 2003 saw Jamo's first move into electronics with the successful debut of the multi-award winning DVR 50 DVD receiver. Today we're proud to announce the next phase of our electronics roll-out, with the launch of a stunning new range of AV components.

All of the new components - which comprise two A/V receivers and a DVD player - have been styled with typical Scandinavian flair and finished to our usual high standards... those considering our new E 7 series of loudspeakers will find that these electronics complement them perfectly.

We really believe we've come up with a totally unique look for our new electronics. All the components feature the minimum in the way of buttons plus solid 4mm brushed aluminium front panels. These not only give the products a beautiful appearance and feel, but also ensure a very stable construction, further enhancing video and sound quality.

All of which means this is a range that will blend into and grace your home environment rather than make it look like a mad professor's laboratory!

So we know they look great... what else can you look forward to? Here's the inside information...

Jamo AVR-693/AVR-793
The big difference between the two new receivers is that the AVR-693 is a 6.1 channel model, delivering 6 x 120w (6 ohms) while the AVR-793 is a 7.1 channel device, delivering 7 x 135w (6 ohms). That said there are plenty of common themes...

Massive toroidal transformers and high-grade capacitors
The AVR-693 and AVR-793 feature overspecified toroidal transformers and high-grade capacitors (AVR-693: 40,000 µF, AVR-793: 60,000 µF), for extra stability and large reserves of power.

As a result there's always enough current to keep a tight 'grip' on speakers. Even the most demanding transient peaks are reproduced with life-like accuracy and realistic dynamics. Just one of the factors which distinguishes an excellent amplifier from merely a good one.

Oh, and we don't use spring-clips... high quality banana-plug compatible binding posts only!

You're always well informed
Besides the usual status information our receiver displays indicate not only which multi-channel format is being reproduced but also how many channels are actually being output to your speakers.

So if, say, you're listening to a stereo broadcast in Dolby Pro Logic IIx mode (with all six speakers plus a subwoofer), you'll be able to tell at a glance...

Comprehensive processing
You name it these receivers have got it. Dolby Digital EX, Dolby Pro Logic IIx, DTS-ES (DiscreteMatrix 6.1)... basically we've covered all the bases.

Each receiver uses 192kHz/24-bit DACs and sports additional processing modes (4 for the AVR-693, five for the AVR-793) for extra fun, in addition to a Re-EQ Cinema Filter. Users can also benefit from a six-step LF (low frequency) crossover as well as individual bass management for front, surround and centre channels.

Input versatility
Naturally you've got a full spread of video inputs, with the AVR-793 boasting additional high-bandwidth component video inputs and outputs. On the rear panel the AVR-793 also sports 3 optical and 3 coaxial digital inputs (the AVR-693 has 2 optical2coaxial) plus a 7.1 multi channel input for SACD/DVD-Audio sources (5.1 channel input in the AVR-693).

Naturally both receivers have digital inputs on the front panel - a single optical for the AVR-693, an optical and coaxial for the AVR-793.

Jamo DVD-593 DVD player
Styled to match the receivers (of course!), this high-quality DVD drive accepts and plays virtually any 12cm optical disc format, from normal CDs to CD-RRW as well as the latest DVD-R/RW and DVD+R/RWs.

DivX compatible
The DVD-593 also handles movies in the new DivX format. For those unfamiliar with it, DivX is to movies what MP3 is to music. Thanks to its efficient compression algorithms a full movie can be stored on just one CD-ROM.

Component video output and progressive scan
To ensure the highest picture quality the DVD-593 features a PALNTSC progressive scan component video output. This enables both NTSC and PAL discs to be displayed with extremely stable and flicker-free images (via compatible displays).

Well connected
For total flexibility the DVD-593 includes all the outputs you'll need: composite video, S-Video, RGB Scart (European models only) and, of course, component video.

Built to last, styled to please, specified to compete and designed for supreme ease of use, the Jamo's first range of hi-fihome cinema separates is sure to make lasting impression on the market!
[Editor's Note: Pricing was unavailable at the time of this writing.]

About Jamo
Since its founding in 1968 Jamo has become a leading global supplier of individual sound solutions. Headquartered in Denmark, the company currently operates in more than 80 countries through subsidiaries and distributors.

The company employs the very principles of Scandinavian design tradition when developing products. Simplicity, functionality and honesty are the cornerstones of every Jamo product.