iPort Announces Next-Gen In-Wall Docking Stations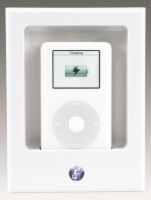 SAN CLEMENTE, CA - June 30, 2005 - Following on the heels of its successful 2004 launch, iPort™ announces a new and expanded line of five feature-packed iPorts to satisfy any in-wall application. Highlighted by a universal docking bay that conforms automatically to the shape of all current generation iPod hard drive players, the new line's features include integrated IR remote control, two-way RS232 communication, and the ability to pass balanced video over long distances. iPort is the newly formed division of Dana Innovations. Dana Innovations is the parent company of Sonance, who introduced the first iPort in 2004.
The new iPort In-Wall, or IW series represents a dramatic leap forward in install-ability and future upgradeability. Fundamental to the new design is that all iPort models feature a universal docking system (patent pending) with a self-adjusting base plate that automatically conforms to any size iPod. An adjustable insert on the face easily rotates in and out to ensure a secure fit. No adapter plates are needed with the new iPort IW series products.
In addition, all but the most basic iPort model incorporate an upgradeable motherboard, into which plug-in cards can be added making future system expansion a breeze. These feature cards offer expanded capabilities for balanced audio, balanced video and two-way RS232 communication.
"Adding integrated remote capability and RS232 compatibility and eliminating the need to change inserts to fit different sized iPods were our top design priorities," said Kim Parker, Director of Product Development. "Addressing all three goals and adding an upgrade path to the future are huge plusses for our customers."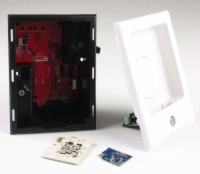 A new and simplified two-piece design makes the iPort easier to install and upgrade. A primary in-wall chassis houses the electronic motherboard and wiring connectors. The chassis is secured to the wall using a pair of integrated Rotolock™ clamps and the audio and video terminations are simple plug-in RJ45 connectors. A separate faceplate, incorporating the new universal docking system, snaps securely onto the in-wall housing.
The IW-1, a basic version with a fixed feature set, charges the iPod when docked and outputs unbalanced audio and video for local room applications. It will have a suggested retail price of $200. A wall plate for unbalanced audio is included, while a wall plate for the unbalanced video is optional.
The IW-2 ($350) adds an integrated IR receiver and uses the modular motherboard design that provides an upgrade path for adding plug-in feature cards. Three upgrade kits are planned: balanced audio ($275), balanced video ($325) and RS232 ($225).
iPort will also offer stepped up configurations that pre-load the plug-in cards simplifying the installer specification process and reducing dealer inventory concerns. These prepackaged models include the IW-3 ($600), which builds on the IW-2 by adding a balanced audio capability for shielded long distance wiring runs between the iPort and the system's amplifier or distribution hub.
The IW-4 ($800) adds to the IW-3, further enhancing it with RS232 connectivity for two-way communication with larger control systems. Two-way communication allows for remote viewing of the metadata from the iPod, including playlists, track, artist and album name on third-party video displays. The top-of-the-line IW-5 ($1100) completes the available feature sets by adding a balanced video module for runs up to 250 ft between the iPort and the video display or distribution hub.
"We learned a great deal with our first two generations of iPort, and consumers don't just want to share music next to the computer," added Scott Struthers, president of iPort and developer of the first high-fidelity in-wall speaker more than 20 years ago. "People want their iPod where they hang out with friends and family: the living room, the kitchen, the den, wherever they get together. We developed this generation to be the most complete line possible to address the wide variety of applications our customers described."
All the iPort In-Wall models except the IW-5 will ship by the end of June, with the IW-5 is scheduled to ship in July. Upgrade kits will be available starting in July.
Company Information iPort, a division of Dana Innovations, is the maker of the first in-wall docking station that integrates the iPod into home entertainment systems. iPort is dedicated to helping consumers free themselves from the constraints of headphones and helping them share their music and photos on a larger and more social scale.
iPort is the innovation of Scott Struthers, co-founder of Sonance, developer of the first high-fidelity in-wall speaker, and a founding member of CEDIA.