Iomega Intros ScreenPlay Multimedia Drives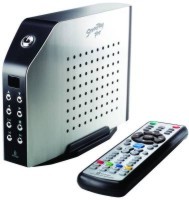 SINGAPORE - December 1, 2005 - Iomega International announced the new family of Iomega ScreenPlay Multimedia Drives, a group of HDD based products with built-in multimedia playback capability, making them digital media jukeboxes for photos, songs and video files that can be used with virtually any television or audio-video system in the world. Simply use the fast connection of the ScreenPlay™ Multimedia Drive to put your latest movies on the hard drive, take your music and films with you when you travel or play them to your home entertainment system.
The Pocket-Sized Screenplay (60GB) Multimedia Drive is designed for families and road warriors that have long struggled with the inconvenience of transporting computer-based digital media (audio, video, and still image files), the ScreenPlay Multimedia Drive offers new freedom to anyone who wants to enjoy digital video, photo albums, music collections and work files on any TV or A/V receiver - without the need for a computer. Compatible formats include MPEG-1 (AVI, MPG, DAT), MPEG-2 (AVI, VOB), and MPEG-4 (AVI, XviD).
The Powerful and DivX-compatible ScreenPlay Pro (200GB) comes with a design that will feel comfortable in any living room-, office- or desktop-environment. Being only slightly larger than the portable ScreenPlay Multimedia drive, the ScreenPlay Pro boasts up to 200GB capacity, additional FireWire connection, high definition video output (up to 1920x1080i or 1280x720p) and digital sound. Equipped liked this and with many additional playable file formats (ISO, DivX, DivXVOD, OGG Vorbis, WMA, WAV) the small ScreenPlay™ Pro has all the specs to become the heart of a home entertainment system and does not make any compromises on the playback quality of your content.
"The Iomega ScreenPlay Multimedia Drives are great hard drives with built-in multimedia features that make them ideal digital media players for virtually any television or A/V receiver," said Thomas Lok, Director, Sales and Marketing, Asia Pacific, Iomega Pacific. "People can liberate their audio, video and photo files from the PC and take them anywhere, whether it's the living room, a hotel, the client's office or the conference room. The Iomega ScreenPlay Multimedia Drives bring a new level of convenience and personalization so you can watch and listen to what you want, when you want."
Product Description
The ScreenPlay Multimedia Drive is an external hard drive with audio and video outputs, built-in multimedia playback capability, and a set of DVD-style playback buttons. Tiny and elegant, the ScreenPlay Multimedia Drives use on-screen TV navigation to help users select a video, song list, or slide show. Since the ScreenPlay drives come with their own wireless remote control, menus are easy to navigate from across the room. A USB 2.0 port (and an additional FireWire port for the Screenplay Pro) enable fast data transfer with a computer at hard-drive speeds; media outputs include NTSC or PAL analog video (using composite or S-Video connectors) and analog stereo audio (using RCA connectors). Additional outputs for ScreenPlay Pro: Video: analog YPbPr video (progressive or interlaced) scalable up to 1920x1080i or 1280x720p, RGB via SCART. Audio: coaxial/SPDIF digital audio (supports compressed Dolby Digital 5.1 and DTS pass-through). Supported file system: NTFS, FAT32, HFS+.
Features and Benefits
When connected to a computer's USB 2.0 port (or FireWire for the ScreenPlay Pro), the ScreenPlay™ Multimedia Drives operate like normal external hard drives. Music, photos and video files are easy to add; just copy files from the host computer and off you go.
The ScreenPlay Pro Multimedia Drive (200 GB) holds up to 900,000 photos, or 300 hours of DVD-quality video**, or 3,700 hours of music, consolidating the user's media files in a single device that is easy to use and convenient to carry.
When connected to a TV or A/V system, the ScreenPlay Multimedia Drives become media jukeboxes of the digital age. They play popular video formats directly to TV; they can handle JPEG photos of up to 8 megapixel resolution, motion JPEG files at 15 or 30 frames per second (digital camera movies), and MP3 digital audio files. Naturally, both devices come with remote control.
System Requirements
The ScreenPlay Multimedia Drive is compatible with Pentium III-class or equivalent processor or higher running Microsoft Windows Win98/SE, Me/2000/XP Home or Professional. It is also compatible with Mac OS X (10.2) or higher.
Price and Availability
Just in time for holiday shopping, the Iomega ScreenPlay Multimedia drives will be shipping November 15 with suggested retail prices of S$599 for ScreenPlay PRO 200GB and S$449 for ScreenPlay 60GB