Inflatable Big Screen for the Ultimate Pool Party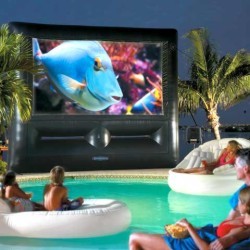 Now you can host outdoor film screenings for family and guests in a big, high-quality way. Using the giant, inflatable screen on the SuperScreen™ Outdoor Theater System, you can make the most of your pool or patio by bringing up the lights on movies and video games. Originally developed for resorts and private golf clubs and now the new trend in outdoor living, it's a complete, easy-to-use widescreen home entertainment system.
Solid, seamless 13' x 16' screen inflates in under five minutes with a turn of the dial, using a built-in fan
Quickly secures with tie-down straps
Made from rugged, puncture-resistant 7.5-ounce coated nylon, for years of service
Includes a compact, portable DVD player, high-output DLP™ projector and stand, and dual 15" speakers with stands and sound boards
Also equipped with a microphone, all cables, remotes, and convenient storage case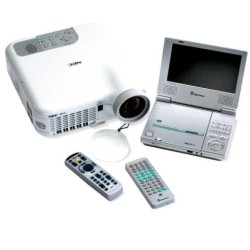 Projector
NEC LT245
2200ANSI Lumens
2000:1 contrast
4000 hour lamp
29dB quiet Economy mode
Keystone correction
Portable DVD Player
CH-LDV 707B
7" LCD Screen, 16:9 Widescreen Format - Supports LCD mode switching for standard 4:3 "Full-Screen" movies

Progressive Scan Video Output with 3:2 pulldown

Plays DVD, VCD/SVCD, CD-ROM, JPG other disc types

2.5-Hour battery for power to spare

Aluminum & High-Impact Plastic Case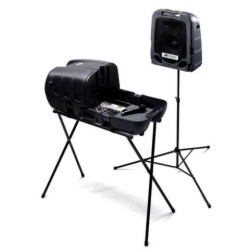 Mixing Console and Speakers
Peavey Escort Portable Sound System with Stand
Convenient package with luggage-style handle and wheels for easy transportation

Two 2-way speaker systems with 10 inch woofer and piezoelectric tweeter for high quality sound reproduction

Two folding speaker stands and 25 foot speaker cables to make connection easy and get speakers up high so everyone can hear distinctly
5-channel powered mixer will accommodate multiple microphones and stereo sound sources such as computer audio, VCR or DVD player
75 watts per channel with DDT™
Four XLR microphone inputs with 15 volt phantom power to accommodate multiple condenser and dynamic microphones
Two stereo line level inputs for computer audio, VCR, DVD player, etc.
Each input has a bass, treble and reverb control to contour the sound of each signal source to your liking
Separate L and R master output level controls to adjust the overall sound level without disturbing the mix or balance of your input sources
High quality digital reverb to make vocals sound like recordings
Five-band graphic equalizer with FLS® (Feedback Locating System) to give you more sound before feedback
60 mm linear faders to provide ease of operation in adjusting levels
PV®i dynamic microphone with cable
Includes strong steel stand for ideal operating position
Storage compartments for microphones, cables and accessories to get everything you need in the Escort's portable case
All of the above comes with and/or goes inside the Escort portable, luggage-style case
Inflated, the screen measures 16'W x 13'H x 5'D. It requires a 20' x 20' set-up area and takes approximately one-hour to fully assemble. The total package weighs 51 lbs, is made in USA and carries an MSRP of $9,999.
For more information visit http://www.frontgate.com/fg/pdp.jsp?prod_oid=3838860 .