Pakedge Awarded Patent for In-Ceiling Wireless Access Point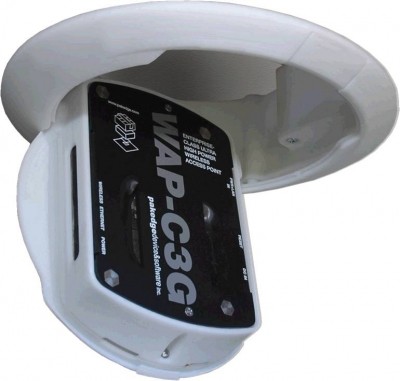 In-ceiling Wireless Access Point
Pakedge Device & Software today announced it has been awarded a U.S. patent on its in-ceiling wireless access point design. Pakedge is the first company ever to be awarded a patent on an in-ceiling wireless access point (WAP), a device that expands the wireless connectivity of a home network, custom-installation audio/video system, security system or enterprise-class network.
Mounting a wireless access point in a ceiling can provide significant benefits. Wireless range can be increased and transmission/reception reliability improved by mounting a wireless access point in a ceiling, because of reduced interference from building and construction materials. In addition, an in-ceiling wireless access point offers increased installation options and convenience.
Pakedge U.S. patent number 7763797 covers the intellectual property relating to the mounting technology necessary to install wireless access points in a ceiling. It also describes the benefits of greater Wi-Fi range and better connection stability provided by an antenna array that is placed at an elevated location. Pakedge was the first company to develop an in-ceiling access point and subsequent patent in 2003.
A Pakedge in-ceiling WAP can be mounted in a variety of ways as either a retrofit or in new construction, in a ceiling as well as in a drywall installation. Power-over-Ethernet (PoE) is used to eliminate the need for a dedicated power supply at the WAP location. As part of the patent design, a supplied wing bracket facilitates installation, and the cover of the Pakedge in-ceiling access point provides a clean, finished appearance. As an industry leader in developing wireless technology, Pakedge has used this intellectual property to develop its newest in-ceiling access point designs, which will make their debut this month.
Victor Pak, President and CEO of Pakedge, noted: "We are honored to receive the industry's first-ever U.S. patent for an in-ceiling wireless access point. The patent reflects Pakedge's commitment to offering innovative, problem-solving products that make life easier for custom installers and system integrators."
About Pakedge Device & Software
Pakedge Device & Software creates innovative networking products for people who demand performance, features, and reliability. Our products use the most advanced wireless and networking technology. They are designed for professionals to install and consumers to enjoy. For more information and system specifications, visit www.pakedge.com.