Impact Acoustics New HDMI-DVI Wall Plates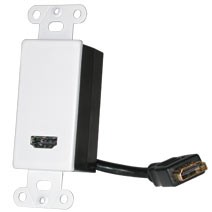 Impact Acoustics HDMI-DVI Wall Plates
Dayton, Ohio, March 7, 2007 - Impact Acoustics, a leading manufacturer of high performance audio/video connectivity solutions, proudly introduces its new line of HDMI and DVI Digital Series Pass-Through Wall Plates. These unique wall plate solutions are designed to allow for uncompromised transfer of delicate digital signals while providing a slick, professional finishing touch to the appearance of an A/V installation.
Engineered from the ground up, Impact Acoustics Digital Pass-Through Wall Plates are completely transparent in order to provide the best signal transfer possible. Unlike other similar products on the market, these wall plates are constructed using four-layer computer-grade printed circuit boards. This PCB construction helps to maintain the critical 100Ohm impedance required to maintain the integrity of the digital signal being transferred through the wall plate. Traditional pass-through wall plates, conversely, are typically constructed by hot-gluing HDMI couplers into a wall plate. This design often causes the impedance to become unstable, resulting in signal degradation and reflection.
Impact Acoustics Digital Pass-Through Wall Plates are available with DVI, HDMI, HDMI to DVI, and DVI to HDMI connection options. These options enable their use for both HDMI and DVI installations and allow the wall plates to flawlessly convert between the two signal types. Connecting to the plates is fast and easy. Simply connect a standard DVI or HDMI cable to the back of each wall plate and the system becomes fully functional. The various wall plate options also enable an installer that already has DVI cables in place to use an HDMI to DVI wall plate to connect to an HDMI device and vise versa, making the wall plates just as versatile as they are functional. They fit standard electrical boxes and are compatible with Leviton Decora® Brand* trim plates making for a truly refined finishing look.
Impact Acoustics Digital Pass-Through Wall Plates are a great solution for home theater, board room and school applications, as well as anywhere else HDMI and DVI cables are used. They are protected by a lifetime warranty against defects of materials and workmanship. These wall plates, as well as all Impact Acoustics products, are available through various distributors, resellers, and online at http://www.impactacoustics.com.
Features:
Constructed using four-layer computer grade PCB
PCB traces engineered to maintain critical impedance
Available in HDMI to HDMI, DVI to DVI, HDMI to DVI and DVI to HDMI configurations
Fits standard electrical boxes and is compatible with Leviton Decora® Brand trim plates
20 AWG steel
*Decora™ is a registered trademark of Leviton Manufacturing Company, Inc. This Product is not manufactured or endorsed by the Leviton Manufacturing Company, Inc.
About Impact Acoustics:
Impact Acoustics is a division of Lastar, Inc., a leader in the computer connectivity industry since 1984. In 2002 Lastar created Impact Acoustics in order to deliver its expertise in computer and data connectivity products to the consumer and commercial communications electronics industry. For information regarding Impact Acoustics visit www.impactacoustics.com
Contact:
Sales at Impact Acoustics
877-AV EXPERT