Immersive Annouces New Simmetry DVP Universal DVD Player/Processor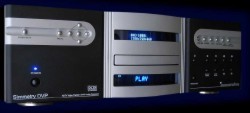 Immersive Inc., a US company, is proud to announce the release of the Simmetry DVP a universal DVD player with extraordinary video processing capabilities, accepting up to 7 different video inputs with an output resolution of up to 1400 x 1050. It also has 7 SPDIF inputs and 2 outputs that allow for up to a 300ms audio delay.
Future proofing the Simmetry DVP has been accounted for in it's software design and open expansion slot on the rear panel. This unit retails for $8995.00 USD
The Simmetry DVP
The Simmetry DVP by Immersive offers home theater aficionados a unique blend of video processing powerful enough to up-convert, cross-covert, and down-convert everything from their DVD movies, cablesatellite TV programming, and their HDTV programming - combined with the soothing sophistication to play back their audiophile music - all in one beautifully engineered box.
The Simmetry DVP offers a variety of ways to interconnect your audio/video equipment. Featuring three DVI/HDCP inputs and DVI/HDCP output the box is capable of delivering a pure digital signal from the internal DVD player, rendering an image that uses the full resolution specified by the DVD specification.
The DVI/HDCP inputs/output are HDCP compliant to ensure future compatibility with sources and displays requiring this new content protection scheme, while also permitting the user to enjoy a complete digital path from their HDTV source to their HDTV display.
A host of analog interfaces are also on board to provide the customer with a way to upscale their cable TV/Satellite, Laser Disc players, and legacy HDTV set top boxes, to HDTV resolutions or a variety of custom resolutions as well. This permits the customer to obtain the highest image fidelity by feeding their digital display its' native resolution - resulting in pixel perfect viewing!
The DVD-Audio and SACD section of the Simmetry DVP offers the customer the flexibility to play either of these new high-resolution audiophile formats. The 24Hz/192kHz Burr-Brown DACs on board are amongst the finest in the industry. Toss in bass management and MP3 playback and you'll find the Simmetry DVP is up to the most challenging of media playback - be it for the hobbyist or the audiophile.
Specifications
DVD Player & Audio Specifications
Plays Audio/Video CDs; DVD-Audio/Video; Super Audio CD; DVD+/-R/RW (conditional); Audio CD-R/RW; MP3 CD-R/RW (128 or higher kbps recommended)
JPEG photo file viewer, Kodak Picture CD and Fujicolor CD compatible
24/96 digital output; optical and coaxial
Built-in Dolby Digital, DTS, DVD-Audio and discrete SACD decoders with 5.1 analog outputs
Burr-Brown 24-bit, 192-kHz DSD-1791 Audio DACs that decode PCM and DSD signals discretely with no downconversion of DSD
Rubicon Capacitors for a lower noise floor and audiophile performance
Full Digital Bass Management for DVD-Audio/Video, featuring Analog Devices Melody 32-bit processor; 80Hz crossover with 12dB high and 24dB low pass slopes; Adjustable delay time (0-15ms)and Channel Levels
Video Processing Specifications
Faroudja DCDi™ Deinterlacing
50+ tap scaler that scales HD
(3) DVI/HDCP Inputs (2 are DVI-I)
(1) SD Component Input (BNC)
(1) HD Component Input (BNC) (total of 3 HD component by using 2 DVI-I as analog inputs)
(2) CVBS
(1) SVHS
RS232 Control
DVI/HDCP and HD15 RGB Outputs
(7) SPDIF Inputs (2 Out) with 0-300ms in Audio Delay available
Output Resolutions 720x480, 852x480, 720x576, 800x600, 1024x768, 1280x720, 1280x768, 1280x1024, 1366x768, 1920x540, 1440x720, 1440x960, up to 1400x1050 (others available with field installable firmware)
Rack mount attachments included
6-18" (H) x 17-1/8" (W) x 13-1/8" (D)
Weight: 32 lbs net (34 lbs gross)