Image Projection Screens iMasque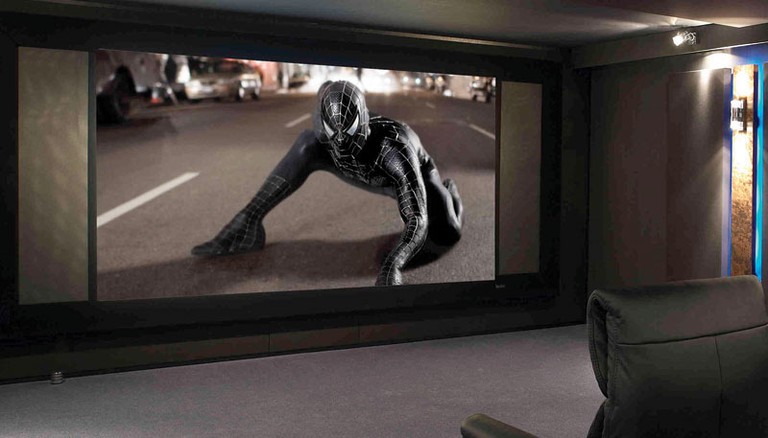 Image Projection Screens Introduces iMasque
Image Screens of Germany will be exhibiting their latest curved 4-way masking projection screen - 120" wide iMasque - in Booth #2362 with Schneider Kreuznach, the high-accuracy, precision optics company known worldwide for its projection lenses. This version of the iMasque will feature Acoustically Transparent screen material and masking panels.
Image Screens, marketed in 35 countries, announced in July its introduction to the North American market in partnership with StJohn Group, North American distributor for Artcoustic and Cabasse Loudspeakers, Cineversum HD projectors, and iSky Panels.
Image manufactures a complete line of fixed, motorized and masking screens for a variety of high performance home theater and commercial applications. The screens are hand-built and incorporate innovative engineering and proprietary designs, and the line features a complete array of solid and acoustically transparent materials, in a wide variety of screen gains and colors, including the world's first acoustically transparent (AT) 3D screen.
Current capabilities include:
Three grades of solid vinyl white screens (1.2 gain)

Two grades of grey screens (0.8 gain)

Rear projection screens (4.0 gain)

Unity gain white AT screen (1.0 gain)

Grey AT screen (0.8 gain)

Three grades of 3D screens including the only AT 3D material on the market!

These materials can be utilized in a variety of form factors including:
Large commercial fixed theater screens - flat and curved

Professional grade motorized masking screens - flat and curved. 2-way and 4-way - including 4-way curved!

Simulators in any size and diameter, from entertainment and gaming use to military and science needs  

A line of fixed frame manual masking screens! Flat or curved!

Professional grade in-wall flush mount screens, with or without masking.

Fixed screens - flat and individual curved to match each individual lens requirement

Screen masks that can be finished with art work

Roll between 2D, 3D screen materials and even AT or solid art coverings on fixed and masking screens.

Three grades of fixed frames with matched fabric.

Silver 3-D ready screens.

Wide variety of designer-friendly colors and fabric covered

A complete line of motorized screens (currently branded DAVISION) - flat and tab tensioned, in a wide range of finishes.

In-ceiling motorized screens
Recent Forum Posts: