iMac 21.5" and iMac 27" Mini DisplayPort to DVI Converter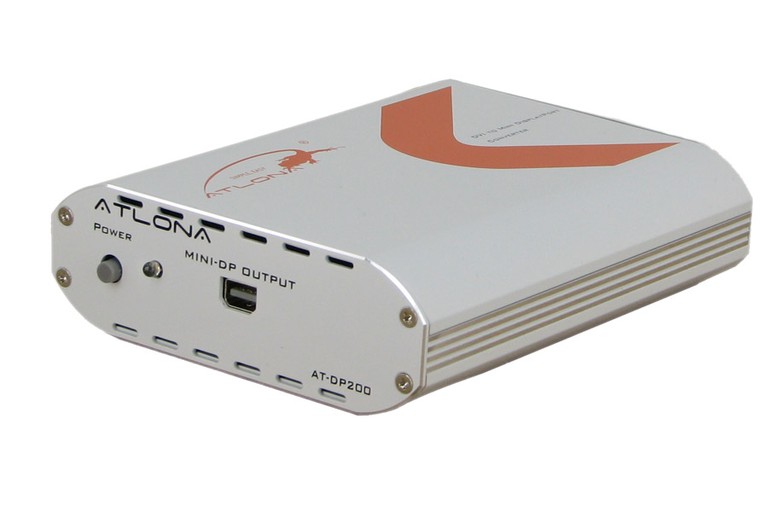 Atlona AT-DP200 DVI to Mini DisplayPort converter
Last month Apple released its new 21.5" and 27" iMacs. On their newest 27" iMac, Apple introduced the ability to use the included mini DisplayPort as a video INPUT such that the iMac could be used as a display for digital video sources such as Blu-ray players or other devices. This is a very cool feature and one that I'd love to see on every all-in-one computer on the market. For anyone who has used their PC or Mac as an all-in-one solution for college, this is a great feature indeed - especially since Mac has yet to offer an integrated Blu-ray drive.
Of course, immediately it was discovered that this simply didn't work with any known cables or configurations on the market. Mini DisplayPort to DVI adapters didn't work. Neither did mini DisplayPort to HDMI. This brought some calls of false advertising, but others seemed to largely insist that it was simply a compatibility issue that was going to be resolved with the proper connections.
Finally, Atlona Technologies seems to have provided a solution in their DVI to Mini DisplayPort converter. The AT-DP200 is seemingly the first of its kind to eliminate the issues that plagued many Apple users had faced purchasing their computers before 2009, and wanting to use the Apple Cinema 24" or any of the newer and upcoming Mini DisplayPort monitors. Atlona technologies officially finished a new round of testing using the iMac 21.5" and the iMac 27" with this unique solution. Since DVI is compatble with HDMI in terms of video, an adapter cable will allow this product to work with HDMI as well.
OK, ready for the bad news? The thing is an active device that includes an external box and it costs $179. Ouch.
Apple definitely dropped the ball on this particular feature of the new iMacs if it takes an active device to make it work. In our opinion, that's barely a feature at all for most uers as $179 seems cost prohibitive. What will be interesting is whether or not one of the more budget-oriented manufacturers will issue a product soon that will take care of this problem in a smaller form factor - and at a much lower cost. We'd love to see one that was active but bus-powered, eliminating the need for an external 5V power supply.
The AT-DP200 inputs DVI and outputs Mini DisplayPort signal while passing along all EDID and HDCP information. The device was put through extensive testing in Apple's compatibility lab, placing it up against every single Apple computer with a DVI port, and every monitor featuring Mini DisplayPort. The DP200 was also placed through PC interoperability testing with all standard DVI video cards. This device will allow use of any Mini Display port product with and DVI graphics card, meaning the new Apple 24" Cinema Displays, the iMac 21.5" or the iMac 27" can be used by those with DVI Macs.