iHome iA63 Rotating iPhone Alarm Clock Radio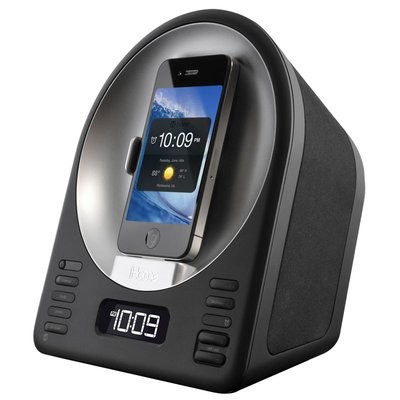 iHome iA63 Rotating Alarm Clock Radio
The iA63 is iHome's latest app-enhanced alarm clock FM radio for iPhone and iPod touch - with a twist... literally. The flexible rotating dock lets you control the iPhone normally - or watch videos in landscape mode. The free iHome+Sleep app download offers custom alarms, sleep stats, social media alerts, weather, overnight news and more. You can adjust alarms, snooze times and EQ settings via the easy touch interface. You can even wake to Internet radio with the paid iHome+Radio app. You can charge and play your iPhone or iPod and wake and sleep to either one. There's also a Sync button that syncs the clock to your iPhone to set the time instantly. A remote control is included. Adding a variety of new features while maintaining the same $99 price point as the iA5, the iA63 is a nice improvement on what was an already great product.
iA63 Features

Motorized rotating dock to watch videos and picture slideshows in landscape mode;
Plays and charges docked iPhone/iPod;
Enhanced alarm clock functionality, users can wake and sleep to their iPhone, iPod or FM radio;
Works with iHome+Sleep and iHome+Radio apps;
Full feature remote control works with unit, audio menus and motorized dock;
The iA63 app-enhanced alarm clock FM Radio Stereo Speaker System with Motorized Rotating Dock for iPhone/iPod is now available at retail outlets nationwide and on iHomaudio.com for $99.  iHome+Sleep and iHome+Radio are available for download on the iTunes App Store!
Source: iHomeAudio.com