Icuiti M920 Heads up Display System with 640x480 Resolution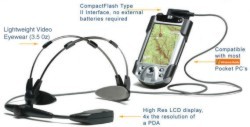 ROCHESTER, N.Y. - Feb. 2, 2005 - Icuiti Corporation, a worldwide cmpany specializing in personal display solutions, today announced the formal introduction of the M920 line of low cost, lightweight, wearable display systems. The M920 line are breakthrough products in the wearable category, delivering high resolution, wide field of view imaging, using the Company's patented Quantum Optics technology.
The M920 is the second generation of the Icuiti's Video Eyewear for vertical market and Military applications. The M920 provides hands free access to digital data, from just about any video source. Icuiti has plans for two models of the M920: the first has a CompactFlash interface which plugs directly into a standard Pocket PC enabled PDA, offering PDA users a 4X increase in screen size (640x480 VGA resolution).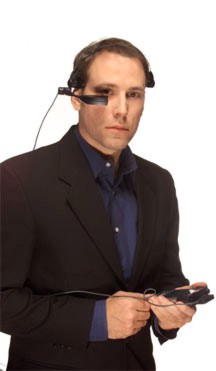 "PDA's have become common place in a variety of vertical market and Military applications," noted Stephen Glaser the Company's VP of Sales for their Tactical Display Group, "the one limiting factor on a PDA is its small screen, limiting its functionality for some applications. Secondly, the ability to be hands free in some of these environments is critical. The M920 allows users to be looking at data or video feeds and working at the same time, increasing both productivity and safety."
A second model in the line is the M920-Video, which has standard video and VGA inputs allowing it to be used with nearly any video source including: Laptops, camera systems, thermal imagers, wearable computers, and test and measurement equipment.
Both systems are selling for $799, the first time in the growing near eye display market, that a product of this resolution has broken the $1000 barrier.
The 16th Annual NDIA Special Operations and Low Intensity Conflict (SO/LIC) Symposium & Exhibition will be held at the Marriott Wardman Park Hotel in Washington, DC February 2-4. The M920 will be displayed in conjunction with the TDS Systems (booth 626) Recon handheld, a rugged PDA device used by a variety of US Military groups.
About Icuiti
Icuiti Corporation is a leading provider of near eye display solutions for Personal Viewing. Icuiti has been designing and producing micro display based products since 1997 and has shipped thousands of units to customers all over the world. These products include mobile viewing devices, wearable computer displays, Military certified micro display electronics, OEM solutions and Virtual Reality Systems. Our products our proudly made in the USA. Icuiti is currently privately held with offices in Rochester, NY and Tokyo, Japan. Visit us at www.icuiti.com
Icuiti and Video Eyewear are either registered trademarks or trademarks of Icuiti Corporation in the United States and other countries.