Hilton Tests the Home Theater Hotel Room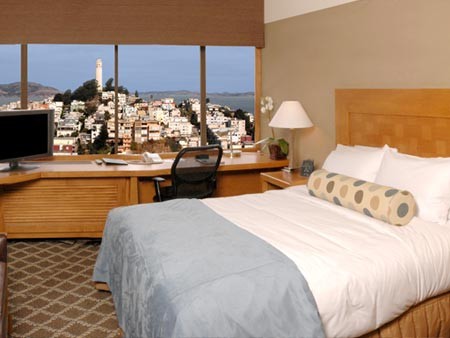 HDTV in Hilton Hotels
Ever wonder why you never see 5.1 systems in a hotel room. I mean, it doesn't cost much to put in even a basic system - so why not spec it into the build of a new facility? Ok, I'm "geeking out" as a certain friend of mine would say... but why not? Apparently someone at Hilton Hotels agrees with me. They've launched home theater-like "Sight+Sound Rooms" at two test-bed hotels. This includes a couple dozen guest rooms at the Hilton Chicago O'Hare International Airport and even more at the Hilton in San Francisco.

The rooms each come with a 42-inch HDTV and Yamaha YSP-800 Digital Sound projector - the perfect solution for generating DSP-driven surround sound in a rectangular hotel room. There is also a "connectivity panel" so guests also can plug their own MP3 players, laptops, digital cameras, etc into a specially designed easy-to-use connectivity panel, which LodgeNet developed and provided for the project. To support the connection, Monster Cable is providing a cable pack in the event guests leave their cables behind.
Available in each room are movie, music and sports packages as well as prime time TV shows and network/cable specials - all provided via DirecTV and XM Radio. The goal for the system is to ensure users are provided with an easy-to-use menu system for accessing anything they want.

For more information, visit www.hiltonworldwide.com.
Audioholics posts on May 06, 2007 13:06
Note that there is actually no mentionof a sub in the info… they may have realized that would be a potentially bad idea.
riceaterslc posts on May 06, 2007 01:51
here in korea there are a ton of motels. they differ vastly from the crappy roadside motel you find in the states. while they aren't as nice as a hilton or marriot, they are nicer than comfort inns or microtels, etc. hard to beat for $40-60/night. ALL of the ones i have stayed in have a large (~50"+) hdtv whether it be LCD, plasma or RPTV. MOST have 5.1 systems connected to a "HTPC" with a dvd collection of 20-50 movies to select from. it's something that i have taken for granted. last time i was back in the states i stayed in an embassy suites hotel and was surprised when the room that cost 3x as much only had a pair of 27" tube tv's.
Buckeye_Nut posts on May 05, 2007 02:12
highfihoney, post: 267517
Good luck on that one

Im about 50/50 for getting placed next to morons,drunks & couples who slam stuff around,like the head board.

My worst was in Paramus New Jersey
Ouch… that would be a hard pill to swallow. I'm a light sleeper and easily disturbed, so when I'm on the road for business, I take foam earplugs…LOL
They certainly help, but they're still not enough to block a blaring TV in an adjacent room. Without them, somebody walking through the hallway heavy footed might wake me.
Buckeye_Nut posts on May 05, 2007 01:37
All I know is as surround sound is introduced……volume goes up.
(sub is irrelevant)


As a person who has done his share of business traveling in the past…..

I cant stand it when the "TV" volume next door is too loud. My sleep is precious, and I'll be dialing "0" to complain to the front desk in a heartbeat if the person next door is disturbing my sleep

As if being on the road isnt bad enough?

If hotels are interested in offering good sound to their patrons, they should offer quality headphones as an option. I enjoy cranking the sound in my HT as much as the next guy, but I dont want to hear that stuff on the road through a hotel wall. As far as I'm concerned, they can stick with the little 27" tube TV's, and I'll be just fine
zildjian posts on May 05, 2007 00:34
I think it's a great idea. I used to travel a lot around the country when I worked in the audio field, and when going from hotel to hotel on the road, I'd pack a small HT system with me and install it in the hotel room at least once or twice a week. This was great when I was driving and was able to have the equipment w/ me, but when I was flying from destination to destination, I had to go without (ultimate sadness!). This would have been a great solution. I hope more hotels start doing this.
Brad
Post Reply