Hitachi Introduces Compact CPX8 3LCD Projector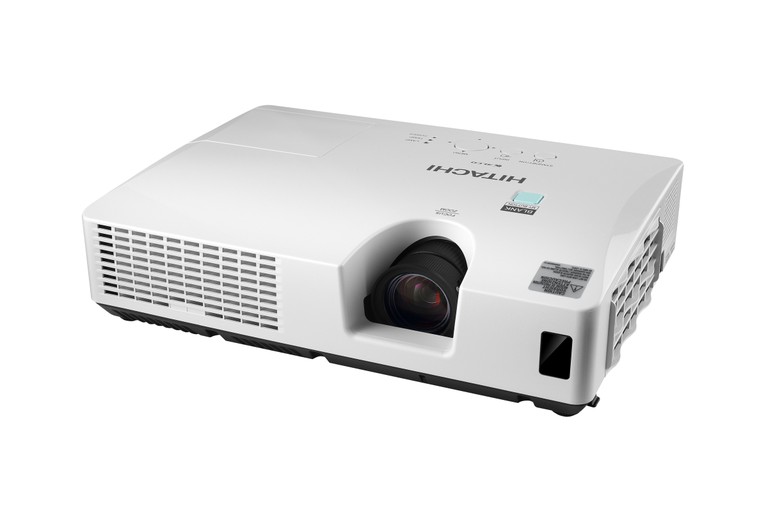 Hitachi CPX8 3LCD Projector
Hitachi America, Ltd., Digital Media Division, Business Solutions Group today introduced the CPX8 3LCD video projector. The latest addition to Hitachi's Portable Series projectors, the new CPX8 weighs less than five pounds and measures just 12" wide x 8.7" deep by 3" high, making it easy to carry and use in different locations.
The CPX8 offers native XGA (1,024 x 768) resolution and 2,700 ANSI Lumens brightness, and is designed for simple setup and operation. It includes HDMI, S-Video and composite video inputs, RGB computer video inputs and outputs, two audio inputs and an audio output. In addition, an RS-232C port enables the projector to be controlled as part of an integrated A/V system. The CPX8 also features a built-in speaker, and a Kensington Lock anti-theft slot. A soft case is included as a standard accessory.
The CPX8 offers a host of convenience features such as MyScreen, MyMemory, MyButton, MyText and MySource buttons for fast remote-control access to frequently used functions; a customizable blank button located on the top of the projector for instant control; a blackboard/whiteboard mode that projects lines for easier writing when using a whiteboard or blackboard; a daytime mode for easier viewing in daylight, and an Eco Mode that conserves energy (less than 0.5 power consumption) and extends lamp life.
The CPX8 features a Hybrid Filter that allows for 5,000 hours between cleaning, while a front air exhaust system directs the heat away from audiences. It maintains a low noise level of 28 dB (in Eco Mode). These features make the CPX8 ideal for small meeting rooms.
The CPX8 and other Hitachi projectors can be purchased using Hitachi's new Trade-In Program, which allows customers to exchange Hitachi and competing brand projectors for potential cash back on purchases of new Hitachi projectors.
For more information on Hitachi visit www.hitachi-america.us/digitalmedia
About Hitachi America, Ltd.
Hitachi America, Ltd., headquartered in Tarrytown, New York, a subsidiary of Hitachi, Ltd., and its subsidiary companies offer a broad range of electronics, power and industrial equipment and services, automotive products and consumer electronics with operations throughout the Americas. For more information, visit www.hitachi-america.us.