projectiondesign Demos helios Studio Edition Projector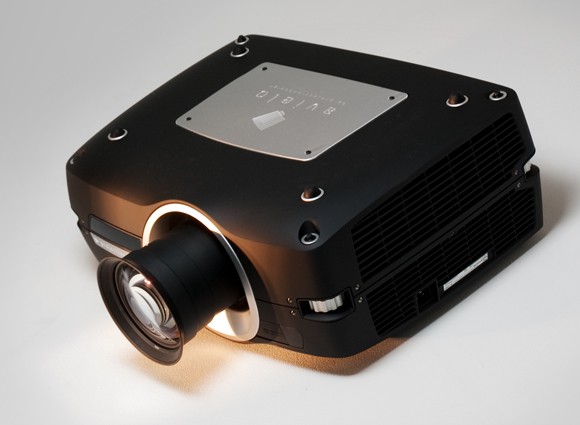 helios Studio Edition Projector
Making its global debut at CEDIA Expo 2010 in Atlanta, projectiondesign's new avielo helios studio edition 3-chip DLP projector made quite the impression in HD home-theater projector design and performance.  Assembled entirely by hand in Norway, the helios studio edition is one of the few projectors on the residential market to meet or exceed REC 709 and DCI color standards.
"The avielo helios studio edition is the result of what happens when all the experience, knowledge, care, and attention to detail of our skilled workforce in Norway come together in the construction of a single, no-compromise product. Having a passion for the display of the moving image is a pre-requisite for working here, and there is no better expression of that passion than the avielo helios studio edition."
- Anders Løkke, International Marketing & Communications Manager, projectiondesign
The avielo helios studio edition builds on and uses technology from the widely acclaimed projectiondesign professional projectors that are used in the movie and entertainment business markets, and directly draws on the experiences from major movie directors and cinematographers. The company's philosophy is to bring what they use in the final production process of the movie blockbusters home to create stunning imagery. In this way they seek to recreate the master experience in your own home theater.
Throughout the production of each avielo helios studio edition, the company claims to expend extraordinary meticulousness at an individual chassis level. This enables the production team to measure each component to ensure that it attains the high standards expected of it. For the price they are asking, that's a good thing and their dealers would expect no less. Even the dual lamps in each projector are matched by hand and eye – another key factor in achieving image uniformity and quality. These are impressive machines and they seem to have both the style and build quality to deliver the matching aesthetics and performance clients will look for at these levels.
About avielo
The avielo series of high performance projectors are designed and hand-built in Fredrikstad, Norway by projectiondesign. Aimed at the high-end custom installation market for use in elite lifestyle applications, avielo projectors feature the most advanced imaging technology that is consistently being utilized in the making of blockbuster movies. The series incorporates a wide range of models, from entry level to the ultimate high end in video display. Complete features for every avielo model are available at: www.avielo.com.
About projectiondesign
projectiondesign is a Norwegian company that designs, manufactures and markets a range of high performance projectors for professional, business and consumer applications. Amongst its core markets are high resolution scientific visualization, visual training and simulation, medical imaging, broadcast and post production, public media and entertainment. Numerous   industry milestones that distinguish projectiondesign's award winning, innovative technology include the introduction of the world's first single-chip SXGA DLP projector in 2002, the first commercially available 1080p DLP projector in 2006, the first WUXGA resolution DLP projector, and the first portable and high-resolution active 3D stereoscopic projector in 2008. In 2009, projectiondesign introduced its first 3-chip projector and debuted LED illumination. 2010 signifies the company's first image warp and blend product with the MIPS processors, as well as the world premiere of the WQXGA resolution (2,560 x 1,600) projector, and revolutionary patented Remote Light Source technology. The entire professional product range is warranted for 24/7 usage. projectiondesign is based in Fredrikstad, Norway, and has offices in Singapore, India, UAE, South Africa, Italy, Spain, Germany, Netherlands, United Kingdom and the United States.