HDR10+ Technologies Announces Program For Licensing and Logo Certification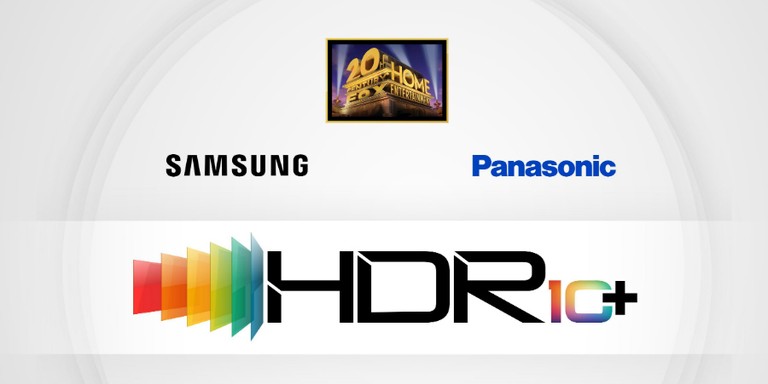 HDR10+
The founders of the HDR10+ format for high dynamic range video have begun a licensing and logo-certification program for the technology, which uses dynamic metadata to automatically adjust brightness levels and other parameters during a video program. First announced by Samsung and Amazon in April of 2017, HDR10+ was designed to be a free and open-source alternative to Dolby Vision, a similar HDR format that also relies on dynamic metadata to make necessary changes in brightness, color saturation, and contrast throughout a movie or tv show. Both formats optimize picture quality on a scene-to-scene (or even frame-by-frame) basis using a process called dynamic tone mapping. This ability to tweak on the fly allows HDR10+ (and Dolby Vision) to surpass the performance of the standard HDR10 format, which uses the same, static metadata for the duration of a video program. According to Samsung, dynamic metadata allows for "more detailed expressions, brighter shadow areas, and more accurate color renderings that stay true to the creator's original intent." 
Samsung and its partners, Panasonic and 20th Century Fox, founded a company called HDR10+ Technologies in order to promote the use of the new HDR format. HDR10+ Technologies has recently launched its certification program that allows manufacturers of TVs, Ultra HD Blu-ray players, media streamers, and other devices to display the HDR10+ logo on their packaging if the devices meet certain performance criteria and prove to be capable of properly executing the HDR10+ technology. Manufacturers have access to the open HDR10+ standard without paying the royalty fees associated with Dolby Vision. But without this certification process, those manufacturers could not advertise HDR10+ capability as a feature.
"We believe that this licensing and certification program will provide reassurance to consumers who want to ensure that they are seeing the most accurate HDR representation of the creator's vision,"
- said Toshiharu Tsutsui, Director of Panasonic's TV Business Division.
Since its founding, the HDR10+ format has been championed by Amazon, whose Prime Video service uses the tech to deliver HDR video to its streaming customers. The initial offerings included Amazon's original programming, such as The Marvelous Mrs. Maisel, The Man In The High Castle, and The Grand Tour. Now, Amazon's entire collection of Prime HDR content is available in HDR10+, including hundreds of licensed titles. Warner Bros Home Entertainment has joined 20th Century Fox in supporting the format, and both studios have announced that they will release Ultra HD Blu-ray discs with HDR10+ before the end of 2018. The companies have not yet revealed which titles would be the first to become available.
According to HDR10+ Technologies, over 40 companies have already declared their support for the format, including content producers, content distributors, and the electronics manufacturers that are incorporating the technology into their hardware. It's safe to assume that TVs and Blu-ray players from HDR10+ co-founders Samsung and Panasonic will be among the first to sport the HDR10+ logo. Philips has also pledged support for HDR10+, while competitors LG and Sony remain invested in Dolby Vision (at least for now). No official announcement has been made about which other brands may adopt HDR10+, but there is a considerable financial incentive to do so. Brands that incorporate Dolby's proprietary technology must pay hefty licensing fees, but the HDR10+ tech is free and open. Brands need only pay a relatively small, annual administration fee to sport the HDR10+ logo. Content creators, such as Amazon, Warner, and Fox don't have to pay a cent.
"The new HDR10+ licensing and certification program represents a technological step forward for next generation displays,"
"HDR10+ improves the viewing experience for all audiences by delivering higher picture quality to a wider range of affordable TVs and devices."
- said Danny Kaye, Executive Vice President of 20th Century Fox and Managing Director of the Fox Innovation Lab.
Will you be on the lookout for the HDR10+ logo on your next video purchase? Will the free licensing incentive of HDR10+ ultimately be the demise of Dolby Vision or will they still peacefully coexist?
Share your thoughts in the related forum thread below.