HandHeld Entertainment Launches Digital Indie Downloads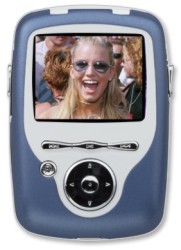 SAN FRANCISCO - April 20, 2005 - HandHeld Entertainment today announced plans to launch a large-scale digital download system populated with content from independent filmmakers from around the world. The system's content will support the ZVUE personal media player.
HandHeld Entertainment's ZVUE gives digital media lovers the ability to take their favorite video, audio and digital picture content on the go. About the size of a pack of playing cards, the ZVUE plays full-color video and clear audio sound that gives users a robust, on-the-go digital experience when coupled with downloadable content from the ZVUE Web site http://www.zvue.com/downloads/index.html .
"Our ZVUE users have always wanted an array of content choices, including independently produced videos and music," said Jeff Oscodar, chief executive officer of HandHeld Entertainment. "But, two of the biggest hurdles for independent filmmakers are having an avenue and an audience through which to distribute their art form. Our new ZVUE-enabled independent film site, coupled with the growing number of ZVUE users, gives indie filmmakers a much larger avenue for distribution and the ZVUE audience that will consume it. We're giving ZVUE users access to the kind of indie films they want."
The ZVUE-enabled independent film site will allow a tremendous amount of filmmakers and film lovers to display, download and enjoy the world's finest independent films through licensing partnerships with independent film digital download sites like StoryPIPE.com. HandHeld Entertainment announced a licensing agreement with StoryPIPE April 18, 2005 and will be announcing many more similar agreements during the remainder of 2005.
"One of the great things for filmmakers in this situation is they can show their work to an international audience that wouldn't have been able to attend a film festival or showing," Oscodar said. "And ZVUE users get access to even more video, short films, cartoons and other great content."
About HandHeld Entertainment
Formed in February 2003, HandHeld Entertainment is a complete end-to-end solution provider in the portable digital media industry. The ZVUE personal media player allows users to access digital media on the go, including high-quality video content, music and digital photos. ZVUE users can download thousands of media titles and learn valuable technology trends via the HandHeld Web site. For more information, visit http://www.hheld.com , http://www.zvue.com , or call 415-495-6470.
HandHeld, HandHeld Entertainment and ZVUE are each trademarks of HandHeld Entertainment Inc.