HAI Releases Update to Snap-Link Mobile for iPhone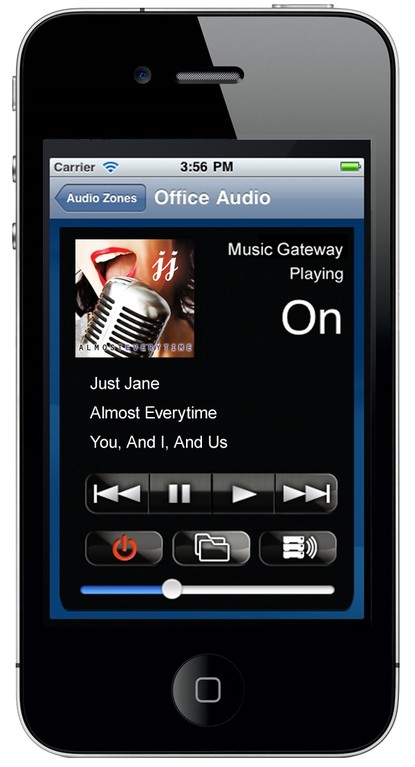 HAI iPhone app
HAI, a manufacturer of integrated automation and security products, announced today that Snap-Link Mobile for iPhone has been updated. By downloading the application developed by HAI, users can control their entire HAI home or business from an Apple iPhone, iPod Touch, and iPad (in compatibility mode). This software update (Version 1.2) adds control over HAI's new Hi-Fi 2 by HAI multi-room audio system, plus the HAI Music Gateway storage device. View album art and meta-data such as artist name and track title right in the palm of your hand.
In fact, homeowners may now use their iPhone as a remote control for entertainment products - No home control system required!  The iPhone app can now connect directly to a Hi-Fi 2 by HAI multi-room audio system for an affordable remote control Touchscreen interface.  The app will recognize whether it is connecting to a whole home control system or simply to the Hi-Fi 2 by HAI and provide the appropriate screens and icons. Additional improvements to the application include Pan/Tilt/Zoom control for Axis and Panasonic IP Cameras as well as DSC security system integration.
Homeowners and business managers have the ability to view event logs, real-time surveillance footage, and adjust anything under HAI's control including lights, access control, appliances, temperatures, window coverings, audio, and more.  Multiple accounts are able to be accessed from within the same application, perfect for property managers and business owners. Complete access to the HAI Omni or Lumina equipped property is available in English, Catalan, Chinese, French, Italian, and Spanish.  Users have the ability to adjust small settings such as wake-up time and irrigation hours, as well as the ability to show or hide specific items.
"Homeowners who use HAI entertainment products now gain remote control over their entire audio systems without the need for a costly home control system. The handheld entertainment interface is perfect for control in homes, offices, restaurants, etc."
- HAI Associate Director of Marketing, Greg Rhoades
The application is available now in Apple's iTunes Store for $49.99 and can be downloaded directly: http://itunes.apple.com/us/artist/home-automation-inc/id378547848. HAI products are available through a worldwide network of Distributors and installing Dealers in over 80 countries.  For more information, please visit HAI's website, www.homeauto.com.
About HAI
HAI (Home Automation, Inc.) is a privately held manufacturer of integrated automation and security products for residential and commercial use based in New Orleans, LA.  Incorporated in 1985, HAI has developed a full line of award-winning automation products, including home control systems, programmable communicating thermostats, smart light switches, Whole Home Audio systems, video surveillance equipment, access control products, Touchscreen interfaces, and software that allows access and control of an automation system over the Internet.  All products are sold through HAI's worldwide network of Distribution Partners and installed by trained dealers in over 80 countries.