HAI Music Gateway Now Shipping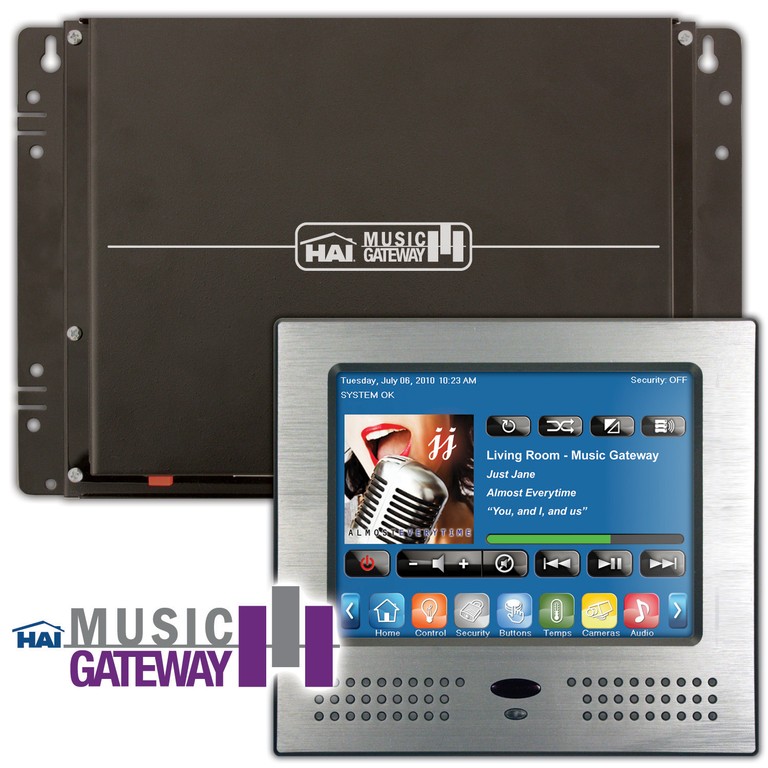 HAI Music Gateway w/Cover Art
Home Automation, Inc. (HAI), manufacturer of integrated security and home automation products since 1985, announced that their newest entertainment product, the Music Gateway, is now shipping.
HAI's Music Gateway (HAI part number 84A00-1) is a music server/renderer with three independent stereo channels, opening up your music collection to the rest of your home.   In addition to serving music, it includes HAI's WL3 software for remote home control access via the Internet, including web-enabled devices like Droid, BlackBerry, iPhone, and Windows phones.  WL3 can also be used to integrate IP cameras, with recording and playing capabilities based on motion, alarm, or door openings.  WL3 can be set up to send email or text alerts.  Homeowners can access security, multi-room audio, lights, temperatures, and more thanks to the duality of the Music Gateway.
The Music Gateway mounts securely in a structured wiring enclosure.  Connecting your equipment is easy, and one or more stereo outputs can be connected to a multi-room audio system, including Hi-Fi 2 by HAI.  Music can be played directly from the hard drive or from a network share. Easily store tens of thousands of songs, along with album art and details, directly on the 500GB internal hard drive.  Songs may also be stored and shared via the network, creating a virtually unlimited music library.  Included desktop software allows for creation of custom playlists and assists with music and meta-data uploading.
Homeowners can use HAI's IP OmniTouch Touchscreens to control the Music Gateway.  Album artwork plus artist, song, and album title meta-data can be viewed.    Selections can be made by artist, title, genre or playlist.  A default Music Gateway screen will be displayed on OmniTouch 5.7e and 10pe Touchscreens, but it can be fully customized using HAI's Automation Studio software.
"The Music Gateway is an awesome product because it isn't just a music server" explains Jay McLellan, HAI President.  "The inclusion of WL3 software provides homeowners many free options including remote control via a mobile web-enabled device."
HAI's Music Gateway is available now for order and delivery.
HAI products are available through a worldwide network of Distributors and installing Dealers in over 80 countries.  For more information, please visit HAI's website, www.HAI-International.com or email [email protected]
About HAI (Home Automation, Inc.)
HAI (Home Automation, Inc.) is a privately held manufacturer of integrated automation and security products for residential and commercial use based in New Orleans, LA.  Incorporated in 1985, HAI has developed a full line of award-winning automation products, including home control systems, programmable communicating thermostats, smart light switches, Whole Home Audio systems, video surveillance equipment, Touchscreen interfaces, and software that allows access and control of an automation system over the Internet.  All products are sold through HAI's worldwide network of Distribution Partners and installed by trained dealers in over 80 countries.