HAI Ships Hi-Fi 2 Multi-Room Audio System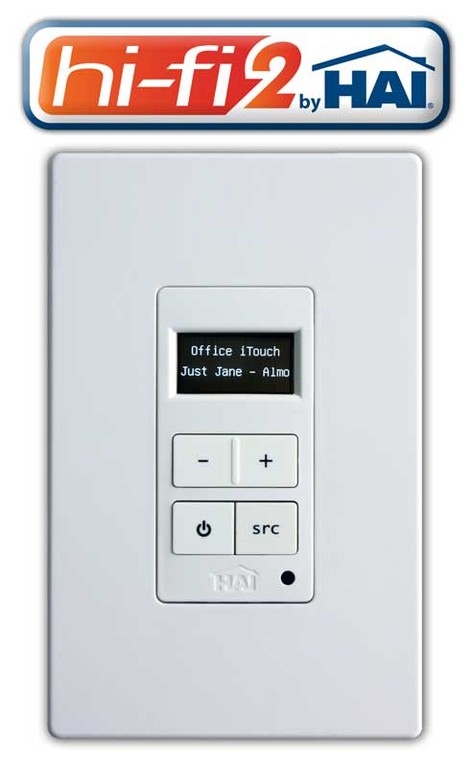 HAI Hi-Fi 2 Multi-Room Audio System
Home Automation, Inc. (HAI), a manufacturer of integrated security and home automation products since 1985, announced that the Hi-Fi 2 by HAI multi-room audio system is now available for worldwide distribution. HAI's Hi-Fi 2 was created for today's demanding homeowners.  The base system features 8 zones and 8 sources and may be expanded to 16 zones.  Installation remains simple with standard Cat-5 wiring and standard speaker wire. The powerful yet compact Hi-Fi 2 plays music from devices you already own (or new devices you wish to purchase), and is so easy to operate that anyone can enjoy it. With Hi-Fi 2, you have the ability to listen to different sources at the same time at different volume levels throughout your home or set all zones to the same source and volume.
The new OLED (Organic Light Emitting Diode) Volume-Source Control (VSC) displays source name, volume bar chart, bass, treble, balance and more. It features four hard buttons for control of volume, source, and power.   VSCs act as infrared repeaters for source component control. Simply point the source's remote at the VSC and it will route the signal back to the original source component through the Remote Input Module (RIM).
When used with an HAI Music Gateway, the VSC can also show metadata such as artist name and song title.  Users can jump through songs on audio playlists using the VSC.  Since the VSC supports Unicode and renders the text as an image on the display, dealers can customize the VSC to display all of HAI's currently supported foreign languages.
Audio sources can now be locally inputted at the Hi-Fi 2 amplifier, or located throughout the house using Remote Input Modules.   Local input examples include items like HAI's Music Gateway and satellite/Internet radio tuners; Remote input examples include a home theater system, kitchen TV, iPod dock, etc. 
The color of the VSC and RIM may be changed to complement the interior décor. They ship white and have color change kits available in almond, light almond, black, and ivory.
Zone amplification is a powerful 25 Watts RMS at 8 Ohms per channel (50 Watts per zone) and four zones have outputs for additional amplification. The Hi-Fi 2 has a built-in universal power supply as opposed to the "power brick" of the original Hi-Fi by HAI.
Hi-Fi 2 functions as a stand-alone installation. It may also be integrated with an HAI Music Gateway or home control system for enhanced features including control from an iPhone or iPad, and automated functions like turning off all audio zones when exiting the home.
"We pre-sold the Hi-Fi 2 and have filled all of the backorders," explained. Now, we are excited to release the entire Hi-Fi 2 product suite for full worldwide distribution."
- HAI President, Jay McLellan
HAI products are available through a worldwide network of Distributors and installing Dealers in over 80 countries.  For more information, please visit www.homeauto.com.
About HAI
HAI (Home Automation, Inc.) is a privately held manufacturer of integrated automation and security products for residential and commercial use based in New Orleans, LA.  Incorporated in 1985, HAI has developed a full line of award-winning automation products, including home control systems, programmable communicating thermostats, smart light switches, Whole Home Audio systems, video surveillance equipment, Touchscreen interfaces, and software that allows access and control of an automation system over the Internet.  All products are sold through HAI's worldwide network of Distribution Partners and installed by trained dealers in over 80 countries.