Grace Digital Audio GDI-IR2550p Tabletop Radio Preview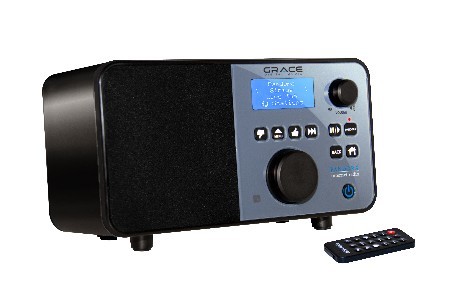 Grace GDI-IR2550p Tabletop Radio
Grace Digital Audio announced a new all-in-one advanced tabletop radio featuring Pandora. Grace's Model# GDI-IR2550p is the first and only tabletop radio that incorporates the same features that Pandora listeners use on computers and smart phones, including 1-button access to the thumbs up/down song selection and play/pause functions. Listeners can also skip, play, pause, and even bookmark songs directly from the remote and front control panel.
Grace Digital's Wi-Fi Internet Radio featuring Pandora additionally provides over 50,000 radio stations, podcasts, and on-demand content including NPR / NPR on-demand, FOX News, CNN, BBC, CBS, iheartradio, NOAA Weather Reports, Live365, KROQ, and Sirius Premium Internet radio. For customers who desire to listen to their digital music collection wirelessly anywhere in their home, Grace's GDI-IR2550p will also connect and play music direct from your iTunes library stored on your PC or MAC.
Grace Digital's CMO, Greg Fadul, thinks functionality is what sets Grace's new Wi-Fi radio apart from the competition. "In the transition of bringing Pandora radio from the computer to the tabletop, most Internet radios lose the simple functions that the computer provided. "We've created a stylish Wi-Fi enabled tabletop radio with high-grade audio that reflects the same simple and easy-to-use functions of Pandora that are available on the computer."  
Now shipping, Grace's GDI-IR2550p is available at www.gracedigitalaudio.com and www.amazon.com for $169.99.
To request additional information about Grace Digital Audio, please contact PR Representative Brad Hobbs at (305) 576-1171 x19 or by e-mail at [email protected]
About Grace Digital Audio
Based in San Diego, California, Grace Digital Audio is a designer and manufacturer of connected home consumer electronic products including, Internet radios featuring Pandora, outdoor speakers, USB archival solutions, media players, wireless speakers and other indoor/outdoor audio products. Known for ease of use and a superior audio quality, Grace Digital Audio provides home linked products that keep customers connected to their music in and outside their homes. Grace sells its products through major retailer, ecommerce sites, dealers and distributors throughout North America. To learn more about Grace Digital products please visit them at www.gracedigitalaudio.com.