Grace Digital Audio Announces Wi-Fi Bookshelf Music System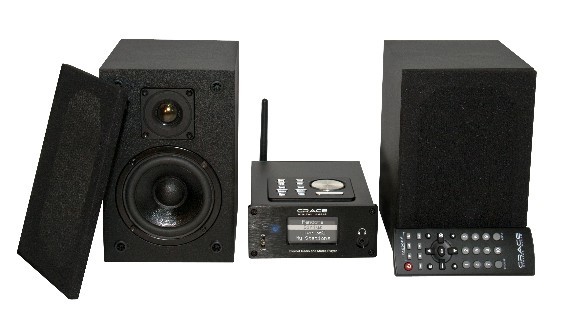 Grace Digital Audio Wi-Fi Bookshelf Music System
Grace Digital Audio announced the immediate availability of the Wi-Fi Bookshelf Music System. Grace's micro-system is the world's first Internet radio system to incorporate two bookshelf speakers and 802.11n connectivity. Grace's micro-system is available now at www.GraceDigitalAudio.com for $249.99. Ideal for your apartment, den, or office, Grace Digital's Wi-Fi Bookshelf Music System is the perfect solution for someone looking for a powerful concert feel without the hassle, set up, and cost of a full home audio system. Grace's micro-system includes two large bookshelf speakers featuring 3.5" full range drivers, 1" tweeters, and a 16 watt RMS Class D digital amplifier. The compact micro-system delivers a superior audio quality unmatched by smaller tabletop units, providing an inexpensive way to bring a home stereo experience to your Internet radio.
The Wi-Fi Bookshelf Music System provides access to over 17,000 radio stations, 20,000 plus on-demand programs, and over 35,000 podcasts. Compatible with Pandora, Sirius XM Internet Radio, CBS Radio, iheartradio, Live365.com, MP3Tunes, NPR, National Weather Service, and new for 2011, WeatherBug and Rhapsody the number-one premium on-demand music service that provides access to 11 million songs for less that the price of an average CD. With RCA inputs and a USB connection, users can connect their iPod, CD player, PC or any additional audio source giving you access to all your music files.
Wi-Fi Bookshelf Music System features include:
Two speakers equipped with 3.5" woofers and 1" tweeters
Class D digital amplifier and rear ported full range speaker provides superior audio quality
10 station presets, up to 100 saved favorites, displays song/artist info, alarm clock radio, and remote control with Pandora controls
Wirelessly stream music and stored audio files from your PC or Mac
Built-in Wi-Fi 802.11n card connects directly to any 802.11 b/g/n wireless router
RCA input/output, headphone connection, and USB port
Now shipping, the Wi-Fi Bookshelf Music System is available for $249.99 at GraceDigitalAudio.com, Amazon.com, and various retailers throughout the U.S.
"We've had many request from our customers that don't have space for a home stereo, but want a little more sound than a tabletop," says Grace Digital Audio's Chief Marketing Officer, Greg Fadul. "We are pleased to offer them the new Wi-Fi Bookshelf Music System. The micro-system provides a home stereo experience at a fraction of the size and cost!"
To request additional information about Grace Digital Audio, please contact PR Representative Brad Hobbs at (305) 576-1171 x19 or by e-mail at [email protected] To learn more about Grace Digital Audio, go to www.gracedigitalaudio.com.
About Grace Digital Audio
Based in San Diego, California, Grace Digital Audio is a designer and manufacturer of connected home consumer electronic products including, Internet radios, USB archival solutions, media players, wireless speakers and other indoor/outdoor communications products. Grace products provide an entire family of indoor/outdoor audio solutions. Grace sells its products through major retailer, ecommerce sites, dealers and distributors throughout North America. To learn more about Grace Digital products please visit them at www.gracedigitalaudio.com, www.facebook.com/GraceDigitalAudio, www.twitter.com/GraceDigital, www.youtube.com/GraceDigital.