Genesis 2.2 Junior Line-Source Speaker Preview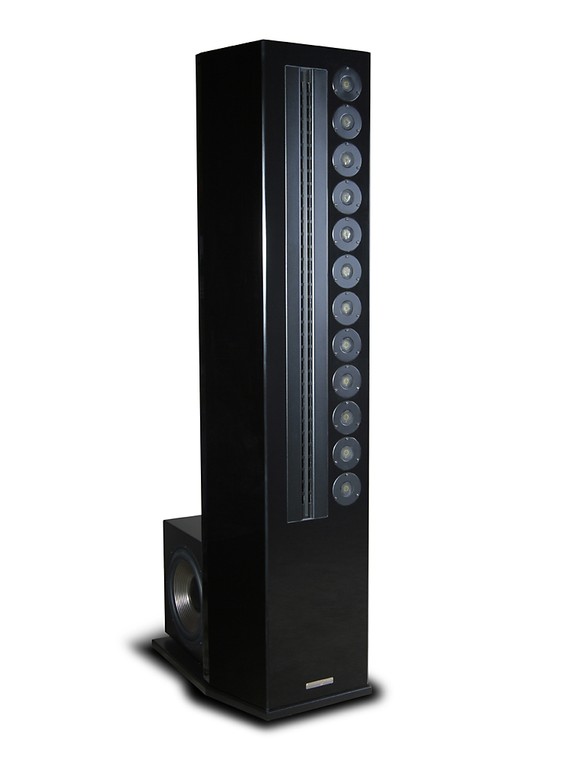 Genesis 2.2 Junior Line-Source Speaker
Genesis Advanced Technologies, manufacturer of high-end luxury loudspeaker and amplifier systems announced the Genesis 2.2 Junior line-source floor-standing tower loudspeaker system. This is a gap-filler model that Genesis claims had been highly anticipated by their customers and dealers. Many of their customers and dealers didn't have a large enough rooms for the Genesis 2.2 four-tower line source system, but wanted the advantages of a line source. Hence, they integrated a pair of side-firing 12" woofers with the midrange-tweeter wings of the G2.2 and created Junior.
Apparently, the integration of the line-source midrange/tweeter with the point source bass took the better part of the past year to get it to sound just right. The G2jr is the latest model in the Genesis line with this configuration of point-source bass with line-source midrange/tweeter. The first model was the Genesis II.5 which was released in 1994, and there were three subsequent iterations over the past 16 years.
The G2 is a four-tower loudspeaker system featuring separate midrange/tweeter "wings" and servo-controlled woofer towers. This separation allows the mid/high frequency panels to be placed to optimize soundstage and imaging for the listening position, and the bass towers to be placed for smooth and extended bass response within the room. The high frequency wings are dipole line-sources. That means that there is minimal vertical dispersion, and horizontal cancellation in the plane of the drivers. The result is minimal floor and ceiling "bounce" and very much reduced side-wall reflections, resulting in solidly pin-point imaging, and a wide and spacious soundstage.
A line source attenuates at -3dB with a doubling of distance whereas a point source attenuates at -6dB with a doubling of distance. For example, with a sensitivity of 91dB/watt at 1m, the Genesis 2 is about average for large loudspeakers. At 2m, the G2 line source can deliver 89dB/watt, at 4m, 86dB/watt, and at 8m 83dB/watt. For the equivalent point source loudspeaker, it will be 85dB/watt at 2m, 79dB/watt at 4m, and 73dB/watt at 8m. Hence, for a listening distance of 4m (about 12ft) the line source will appear to be almost twice as loud as a point source loudspeaker.
The vertical spectral content of music is virtually the same throughout the length of the line source. Hence, the seating height does not matter with this speaker; unlike point source speakers where it is important for the ears to be aligned in relationship with the tweeter. The change in loudness is also much less over a small change in distance. The separate bass towers can be correctly placed within the room without affecting the soundstage and image at the listening position. With a column of bass drivers extending almost the height of the room, there are no standing waves between the floor and ceiling. This results in tightly-controlled, extended, smooth, and dynamic bass response in any room.
The G2 also features its own servo-controlled bass amplifier for the woofer towers. This means that there is no need to have to choose between using a muscle-bound amplifier with enough power to drive the woofers and a lower-powered amplifier having better harmonic, tonal and spatial characteristics. Servo-control results in extended bass response down to 16Hz, and vanishing low distortion throughout the range.
The servo-controlled bass amplifier is divided into a control module and two amplifier modules plus a power supply module. Dedicated cables are provided for all bass connection. This results in great flexibility in placement and connection. Upgrade options are also available for the amplifier to extend dynamic response and headroom, as well as longer cables for even more flexibility in placement.
The Genesis 2 provides the dedicated audiophile with ample means to adjust the sonic presentation: a tweeter pot tailors the high frequencies for different room environments; and in the servo-controlled bass amplifier, gain, low-pass filter, high-pass filter and phase adjustments affords ability to adjust the bass to match the listening room. A unique midrange switch allows for adjustment of soundstage height for personal preference. Some of us prefer the orchestra seats in a concert hall, others prefer the circle seats: the G2 allows you to pick your favorite.
The Genesis 2.2jr retails for $49,000 and is available from all Genesis dealers around the world. It is finished in high gloss acrylic black. For that price it shoudl be finished in whatever freaking color you want. Genesis Advanced Technologies designs and manufactures loudspeakers, amplifiers, and accessories in Seattle, WA. The complete range of products can be found at www.genesisloudspeakers.com.
About Genesis Advanced Technologies
Genesis Advanced Technologies is a leading developer of high-end luxury loudspeaker and amplifier systems with a worldwide manufacturing, design and sales organization with a commitment to absolute fidelity®, in product, service and performance. Genesis develops loudspeaker systems, amplifiers and accessories for music lovers worldwide.
haraldo posts on February 22, 2011 04:36
GranteedEV, post: 794020
I wonder why the high end is so infatuated with line sources.
Because line sources sounds incredibly good…..
Firstly they are much less dependent on room and room influence is not so troublesome…. secondly distortion is non-existent because there are just so many drivers
What is unacceptable though is price tag for products like these, there is no way I can comprehend why there is such a price tag, it's just a bunch of drivers and I don't think they're so expensive, when that's said and done there's lots of diy line source designs out there… and a bunch of available drivers from Tangband, vifa, peerless and more that are suitable for such systems….
Perhaps someone at AH forums can take a challenge and design a no-compromise fullrange line-source system
The best speakers…. by a wide margin…. that I heard are line source systems utilizing fullrange drivers, ribbon tweeters and competent subwoofers
merrytess posts on February 21, 2011 21:47
fdssssssss

sssssfffffffffffffffffffffff
digicidal posts on February 21, 2011 19:16
Maybe it's because it's obvious to anyone that looks at them that you have stupid amounts of money to spend on hifi?
GranteedEV posts on February 19, 2011 20:26
I wonder why the high end is so infatuated with line sources.
Post Reply