GefenTV Releases Audio Processor and Companion Speakers

GefenTV Audio Processor
Connectivity solutions provider Gefen today announced that its GefenTV Home Theater Audio Processor and optional five-set, wall-mountable speakers are now shipping. These two products work in concert to enable a plug and play method of creating surround sound audio in any room using primarily audio extracted from the HDMI input from any Blu-ray player, gaming system or set-top box. A digital audio input is also available.
The GefenTV Home Theater Audio Processor comes equipped with a variety of both analog and digital audio connections so consumers can select the best sound delivery for their particular entertainment system. There are six analog (25 watts RMS per channel) RCA outputs that support 5.1 Dolby surround sound and can connect to any amplifier achieve the perfect combination of amp/pre-amp so desired in home theater systems. Front right and left channels are bi-amped to improve sound quality.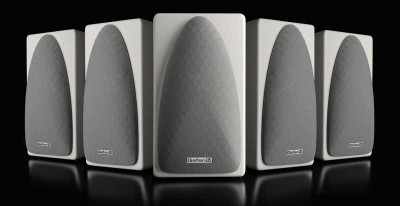 The GefenTV Conference Room Speakers are ideally matched to the Home Theater Audio Processor's speaker binding posts, offering powerful sound quality for small to mid-sized rooms. Each two-way speaker offers a ported design with built-in wall mountable capability. Speakers are sleek, attractively packaged, engineered for fine quality sound and tuned specifically for the Home Theater Audio Processor. Their elegant finish is designed to match any décor. Together, these two products supply excellent surround sound in bedrooms, dens, dorms and small conference rooms.
Alternatively, powered speakers can be connected directly to the Home Theater Audio Processor's left, right, front left, front right, rear left, rear right, subwoofer and center positions. Finally, one coax input can be passed through in both TOSlink and coax formats, directly connecting digital audio to an existing A/V receiver.
The one HDMI input that supplies audio for the Processor is also split and delivered to two HDMI outputs at the same time, allowing for dual screens or HDTV displays to be connected locally. Both HDMI outputs deliver 1080p full HD video with deep color and 3DTV pass-through capability, as well as multi-channel audio supporting lip sync, Dolby TrueHD and DTS Master Audio.
A high contrast LCD display and front panel buttons on the Home Theater Audio Processor give access to a variety of control features and status information so consumers can finely tune the entire system. An IR remote control and RS-232 connection are also included for full control.
Both the Home Theater Audio Processor and the five-set Conference Room Speakers are available to purchase. Speakers may also be purchased in separate 3-set and 2-set options.
About Gefen
Gefen supplies a wide selection of signal switchers, splitters, extenders, scalers, converters, KVM, digital signage and home theater accessories that enable audio/video and computer systems to be easily integrated, extended, distributed and optimized to maximize performance. Continual product innovations ensure the company maintains its reputation as a reliable resource for installers and integrators. The GefenTV line offers professional quality home theater accessories for plug and play operation. The Gefen ToolBox line delivers portable, wall-mounted solutions for the nuts and bolts of system integration. All products are supported by technical representatives and engineers available for consultation in Gefen's Los Angeles area headquarters. Additional information may be found at www.gefen.com.