Gefen ToolBox Splitters Preview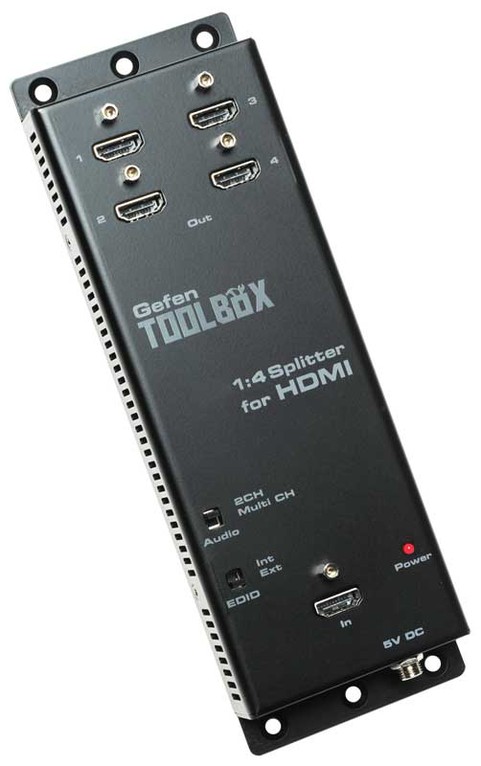 Gefen ToolBox Splitters
Digital connectivity solutions provider Gefen today announced that two new ToolBox Splitters are shipping with Gefen Fast Switching Technology (FST) and 3DTV enabled. Now sources using HDMI with HDCP (high-bandwidth digital content protection) will no longer introduce a delay when syncing. Plus HDMI v1.4 features are implemented to support 3DTV.
The ToolBox 1:4 and 1:8 Splitters for HDMI distribute any high definition source using HDMI and deliver it to either four or eight HDTV displays at the same time, ideal for digital signage, video walls and more. Both products work with cameras, blu-ray players and set-top boxes to enhance viewing clarity and enrich entertainment.
For those integrating analog devices or certain set-top boxes that will not work with more than one HDCP 'key', Gefen has included a physical bypass switch so users can select slow switching (no FST) if needed. Both splitters ship with the switch set to fast switching (FST-enabled).
"Gefen's FST dramatically improves the slow authentication syncing of HDMI devices when dealing with HDCP. This is a new feature developed to help our customers; they have often requested this kind of functionality."
- Hagai Gefen, president and CEO, Gefen
About Gefen
Gefen supplies a wide selection of signal switchers, splitters, extenders, scalers, converters, KVM, digital signage and home theater accessories that build a solid infrastructure for today's audio/video and computer systems. Continual product innovations enable the company to maintain its reputation as a leading resource for installers, integrators and end users alike. The GefenTV line offers professional quality home theater accessories streamlined for plug and play operation. The Gefen ToolBox line delivers portable, wall-mounted solutions for the nuts and bolts of system integration. The GefenPRO line supplies 24/7 technical support and valuable features for demanding professional industries. All products include lifetime support from technical representatives and engineers available for consultation.