Freescale to Demonstrate Ultra-Wideband HD at 20 meters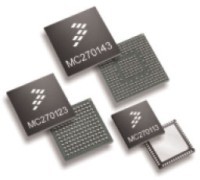 LONDON - May 23, 2005 - Freescale Semiconductor will demonstrate the industry's longest-range commercial Direct Sequence Ultra-Wideband (DS-UWB) communications solution in a wireless projector and media blaster at Wireless Connectivity (WiCon) World. Leveraging technology gains allowed by a recent Federal Communications Commission ruling, the product demonstration will use Freescale's XS110 UWB solution to wirelessly transmit video across a 20-meter distance, which is double the range of previous UWB solutions.
"The FCC's waiver ruling in March paved the way for Freescale's XS110 chipset to double in range, while still performing at over 110 megabits per second -- a dramatic improvement for our OEM customers," said Martin Rofheart, director of Freescale's Ultra-Wideband Operation. "The waiver's impact on Freescale's future UWB products is expected to be even more significant, resulting in up to 30x improvement in power consumption, data rate and capacity for key applications. While the FCC waiver affects use only in the US, we believe the prudent testing and measurements behind this decision will be key for other regulatory concerns worldwide."
Once considered only a high-rate WPAN technology, UWB now has many more opportunities to address longer range wireless applications, such as surround sound and home entertainment. About the extended capability, Craig Mathias, a principal with the wireless and mobile advisory firm Farpoint Group said, "The number of applications for UWB continues to grow at a rapid rate. Freescale's ability to optimize power consumption, range, and throughput will result in the broad acceptance and adoption of UWB in both residential and business settings."
In March 2005, the FCC approved a waiver expanding the rules for UWB. Specifically, the waiver removes the requirement to reduce power for gated systems that burst intermittently. Relative to the original rules, under this waiver Freescale's DS-UWB approach may be re-certified to achieve up to 30x greater data rate across a network, or deliver a video stream using up to 30x lower power from the battery, or deliver the same data rate across the network but at double the distance and with greater robustness.
With a simple firmware update, Freescale's current UWB chipset, the XS110, was modified to take advantage of the waiver, and has been submitted to the FCC for re-certification under the new rules. The longer ranges shown in the demonstration leverage the modified XS110 solution.
The Demonstration Specifics
The demonstration at WiCon will showcase a high-definition media stream being broadcast wirelessly from a laptop to a USI digital media adapter card, which then will project the video to a 40-inch television display. Achieving a data rate of 110 Mbps, the wireless transmission between laptop and media adapter card will be done at a distance of 20 meters, double the rate of previous UWB demonstrations. Both the laptop and the digital media blaster leverage Freescale's XS110 solution in a UWB module developed by USI. The media adapter card, provided by USI, will receive the video stream via the UWB link and then will convert the digital video into a variety of output formats for projection to the screen.
This UWB video streaming demonstration will showcase the freedom that consumers will enjoy with wireless connectivity. With UWB, equipment may be placed anywhere within a 20-meter range to achieve full video and audio streaming, enabling wireless applications for the home and enterprise. In the home, UWB is expected to enable wireless connectivity between digital video recorders, televisions, laptops and set-top boxes, which might be placed in various locations throughout the home. In the enterprise, UWB is expected to enable wireless streaming of video or presentations from laptop to projectors or laptop to laptop.
Quick Technical Details on the Freescale UWB Spec:
Frequency Band: 3.1-10.6 GHz
MAC Protocol: IEEE 802.15.3
Network Architecture: Peer-to-peer, ad hoc, Piconet (8 nodes)
Encoding: Bi-phase mono-cycle
Coding Rates: 1, 3/4, 1/2
Selectable Data Rates: 29, 57, 86, and 114Mbps
Power Consumption: 750mW
Bit Error Rate: 10^-9
Range: 20 meters
Operational Temperature Range: 0 degrees C - +70 degrees C
Operational Humidity Range: 0-95 percent non-condensing
About Freescale Semiconductor
Freescale Semiconductor, Inc. (NYSE: FSL - News ; NYSE: FSL.B - News ) is a global leader in the design and manufacture of embedded semiconductors for the automotive, consumer, industrial, networking and wireless markets. Freescale became a publicly traded company in July 2004 after more than 50 years as part of Motorola, Inc. The company is based in Austin, Texas, and has design, research and development, manufacturing or sales operations in more than 30 countries. Freescale, a member of the S & P 500®, is one of the world's largest semiconductor companies with 2004 sales of $5.7 billion (US). www.freescale.com
Freescale Technology Forum
Learn more about this inaugural forum, June 20-23, 2005 in Orlando, Florida, featuring visionary keynote speeches, in-depth technical presentations and technology demonstrations from Freescale and leading hardware, software and tools providers. www.freescale.com/ftf
Freescale(TM) and the Freescale logo are trademarks of Freescale Semiconductor Inc. All other product or service names are the property of their respective owners. © Freescale Semiconductor Inc. 2005