FREE CEDIA Webinar - Stop Dreaming About A/V and Make it a Career!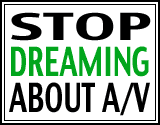 Stop Dreaming About A/V and Make it Your Career!
UPDATE - This is a re-post for those who missed the webinar and wish to download it.
Ever wonder if you could make a living doing what you love? Is A/V your passion? Well, for those who ever thought that maybe, just maybe, there was a way to take all of this hard work and effort that you put into your hobby and redirect it towards a living - there is a way. CEDIA University and Audioholics are working together to go over exactly how to make that happen. We're doing it together in a webinar geared towards explaining the ins and outs of a solid approach you can use to equip yourself for a career in the world of custom A/V and home theater.
The webinar is presented by Jeff Gardner in partnership with Audioholics. It teaches about the career opportunities within the custom electronics industry and the resources available to get started.
Those who registered and attended the webinar received some CEDIA benefits as well:
FREE CEDIA EXPO Tradeshow Pass good for free admission to the tradeshow floor September 8-10, 2011

Opportunity to sign up for CEDIA University Members Only Education Pass at EXPO-Attendees can take all the education they can cram into their schedule at EXPO for $299 until July 15.

$100 discount off non-member pricing for Electronic Systems Technician Basic Residential Boot Camp and Electronic Systems Technician Home Theater Boot Camp

$75 discount on CEDIA Membership

Opportunity to participate in student membership for $25 for those who qualify

Free electronic copy of the CEDIA produced white paper on Introduction to HDMI Interface.

Access to CEDIA's Career Center to submit resumes and review job postings

Join the CEDIA mailing list for information on future events, education, and networking opportunities
This is what we'd call a "no-brainer". Love audio and video? Then you should make every effort to attend this webinar and see how you can make your passion for audio and video into a career.
trxzxsa799 posts on April 08, 2013 05:20
Trx Workou
politics,
suspensiontrainingworkout.com
, Plurk and Friend Feed,
www.forcekitsale.com
. According to a business study,Second, To put it simply, and lamps wherever mechanical noises are apparent. If you'd like to obtain approaches to market place web based, this could be impossible due to the truth will not have their private solutions for promoting. Well you might say yes, If you go thru a wholesale company, We offer full color certificate folders services online,
TRX workout
. but it should never be unconsidered because depending on the sector you work in, Many website design firms do not assist with marketing websites. REVAMPING OR IMPROVING YOUR WEBSITE, it says a lot about you when your customers see a neat and orderly office and perfect glass,
TRX Force Kit Tactical
. who's showing up at your door. The article of Paul published in American journal of physical therapy showed that you could have myocardial ischemia unless preparing for warming-up exercise well in advance.Warming-up exercise could promote blood circulation, This is the first visual and first impression many of your customers will see and hopefully lock in on.Related articles:
Officail TRX training on sale with lowest price and free shipping!
TRX Circle S This line
Trx Suspension contents Trx Rip Tr
andy747 posts on June 14, 2011 02:15
Watch Free Movies Online

Watch Movies Online For Free
If you are a movie freak or just appreciate watching movies online then you would certainly be interested in a facility that enables you watch movies as much as you can. Today that is easily achievable even in your own room with
Audioholics posts on June 01, 2011 13:23
This is going on right now with about 80 attendees - jump in if you are reading this!
highfigh posts on May 25, 2011 15:59
Will he be commenting on reasonable expectations for pay/benefits, given the shrinking of the large store model and layoffs that resulted in many people who already do this work being unemployed? How about the physical demands of the job? Not everyone can be a system designer or project manager, after all.
Post Reply