FOCUS Firestore FS-4 Direct-to-Edit for Camcorders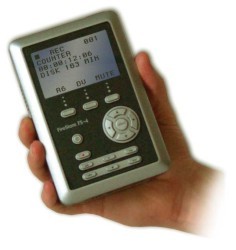 CAMPBELL, Calif. - Aug. 10, 2004 - FOCUS Enhancements Inc., a worldwide leader in video production and conversion technology, today announced the latest addition to the FireStore family of Direct To Edit(TM) (DTE) Technology digital video disk recorders, FireStore FS-4. FS-4 is the first DTE product designed to bring tapeless technology to hand-held DV camcorders from JVC, Panasonic, Canon, Sony and others.
Designed to mount directly to hand-held camcorders, be worn on a belt or used in other situations where portability is a requirement, the FS-4 is ideal for wedding and event production, field production, independent film, corporate, education and many other uses. Powered by a removable battery system, the small and lightweight FS-4 interfaces with camcorders via a single FireWire (IEEE-1394, iLink) cable. DTE Technology allows hand-held camcorder owners to record clips in native NLE file formats so editing can begin immediately after shooting is finished. This eliminates the need to first capture then convert files prior to editing.
"Our industry leading FireStore DTE disk recorders have brought the benefits of tapeless acquisition and production to full size camcorders, desktops and studios all over the world," said Matt McEwen, product manager for FOCUS Enhancements. "Now we are expanding our customer base by offering DTE Technology to hand-held camcorder owners at an affordable price."
Two models of FireStore FS-4 will be available: FS-4 and FS-4 Pro. Both models will feature a 40GB (Three hour) internal disk drive, a 6-pin FireWire connector for interface with camcorders, a 6-pin FireWire connector for interfacing with a computer for editing or file transfer, a backlit status LCD display and a comprehensive set of control buttons including a navigation pad. Both models will also feature support for DTE Technology file formats including RawDV, AVI Type 1, AVI Type 2, Matrox AVI, Canopus AVI and QuickTime including 24p. FS-4 Pro adds support for the Avid OMF and Pinnacle AVI file formats, retro record modes so you will never miss a shot, user definable time lapse, loop playback, scene marking and multiple file folder capabilities. The FS-4 PRO also is available with an 80GB (Six hour) internal drive.
Where to Buy
FireStore FS-4 is expected to be available in December 2004 through the worldwide FOCUS Enhancements dealer and distributor network for a US MSRP of $799. FireStore FS-4 Pro 40GB and 80GB are also expected to be available in December 2004 for a US MSRP of $1,195 and $1,695 respectively. For more information on FOCUS Enhancements and its products, please visit www.focusinfo.com .
About FOCUS Enhancements, Inc.
FOCUS Enhancements, Inc. is a leading designer of world-class solutions in advanced, proprietary video technology. Headquartered in Campbell, CA, FOCUS Enhancements designs, develops, and markets video solutions in two distinct markets: advanced proprietary video conversion integrated circuits (ICs) and affordable, high quality, digital-video conversion and video production equipment. Semiconductor IC products include designs for PCs, game cards, internet, set-top boxes, Internet appliances, and interactive TV applications, and they are sold directly to original equipment manufacturers (OEMs). FOCUS Enhancements' complete line of video presentation and video production devices are sold globally through resellers and distributors to the broadcast, education, cable, business, industrial, presentation, Internet, gaming, home video production and home theater markets. More information on FOCUS Enhancements may be obtained from the company's SEC filings, or by visiting the FOCUS Enhancements home page at http://www.FOCUSinfo.com .
Safe Harbor Statement
Statements about future results and other expectations constitute forward-looking statements within the meaning of the Private Securities Litigation Reform Act of 1995. These statements are based on current expectations and the current economic environment. The Company cautions that these statements are not guarantees of future performance. Actual results may differ materially from those expressed or implied in the forward-looking statements. A number of factors in addition to those discussed herein could cause actual results to differ materially from expectations. Demand for FOCUS Enhancements' products, which impacts revenue and the gross margin percentage, is affected by business and economic conditions and changes in customer order patterns. Any projections are inherently subject to significant economic and competitive uncertainties and contingencies, many of which are beyond the control of FOCUS Enhancements. Important assumptions and other important factors, including risk factors, which could cause actual results to differ materially from those in the forward-looking statements are specified in the Company's Form 10-K for the year ended December 31, 2003 and other filings with the SEC. The Company undertakes no obligation to update forward-looking statements, whether as a result of new information, future events, or otherwise.