Flexplay Self-Destructing DVDs - Take Two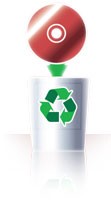 Self-destructing DVDs - Take 2
Resurrecting a format that already died a quick death, Staples will begin carrying Flexplay Entertainment's self-destructing DVD movies next month. These are the discs which, once removed from a specially-sealed pouch, have a 48-hour shelf life before they become unplayable. After that the discs can be either discarded, recycled, or presumably integrated into a piece of modern art.

Flexplay discs can be viewed on any standard DVD player and remain viable within the package for about one year.
Staples, the office supply chain, plans to offer the DVDs for $4.99 at its 1,500 U.S. stores. Initial titles will include a host of B-rated films like "Norbit", "Semi-Pro," "The Kite Runner," "There Will Be Blood" and "The Golden Compass," among others. It's uncertain what the motivation or target market for these discs is - considering even Disney couldn't get them to sell when they introduced them in 2003 (at the time marketed under the name "EZ-D").

All told, Flexplay boasts an entire catalogue of... wait for it... 34 discs. The company lists a bunch of new titles as "Coming Soon" - these include "Cloverfield", "Next", "Sweeney Todd...", and "Zodiac". Judging from the rather anemic start, it's doubtful that the company will gain much studio interest moving forward.

Flexplay uses a proprietary, patented adhesive to glue together the plastic disc halves that form a DVD. Removing the Flexplay DVD from its sealed package exposes the disc to oxygen, triggering a controlled chemical reaction that causes the adhesive to interfere with the ability of the DVD player's laser to read the disc.
Flexplay has partnered with environmentally friendly recyclers, plastics suppliers and selected retailers to implement several closed-loop recycling options including consumer mail-in, prepaid postage options and collection points through local environmental organizations.
It's almost certain that this technology will bomb... again. Consumers are so far simply not interested in time-limited rentals, either physically or via expiring download. All attempts at marketing and selling time-limited rental concepts have consistently tanked in the consumer market.
It may be time for the self-destructing DVD concept to, well, self-destruct.
For more information, visit www.flexplay.com.