Fiberoptic Studio uRay RGB Eco Tape Preview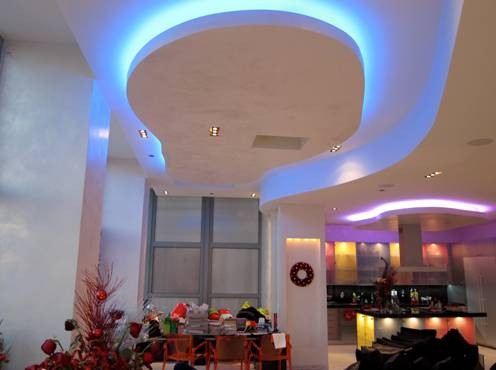 iSky uRay RGB Eco Tape
Fiberoptic Studio just announced 2 new uRay color-changing LED lighting strips. The new uRay RGB Eco Tape and uRay RGB Link can be used for under-cabinet lighting, or accent or decorative lighting in home theaters or just about anywhere you want colorful accent lighting. uRay lighting is a series of flexible LED lighting strips that you can stick up just like tape. To get an idea of how cool these are, imagine unrolling a roll of tape with LEDs along the length. Give it power on one end (perhaps from an outlet that is located behind an acoustic panel) and you can create accent lighting with almost no effort whatsoever.
The uRay strips literally look like a roll of tape - they are flexible and have 3M double-sided tape included so you can place them anywhere and almost on any type of surface imaginable. Still not impressed? You can CUT them to any length since power can be applied at any location along the strip of tape. uRay lighting is also dimmable and can be plugged into any home control system to generate custom lighting settings and effects. 
The uRay RGB Eco Tape is just $18.75/ft which sounds expensive until you see what it can do and how easy it goes on. Plus, this is a solution for enthusiasts and custom installations pros as well as interior decorators. The RGB LEDs can be dimmed and also controlled with iSky's IR Remote & receiver or you can use the more robust DMX RGB Module. A single 4-amp driver can control up to 16 feet of lighting. The only difference between the Eco Tape and the Link tape is that the latter can be dimmed. It is priced at $28/ft.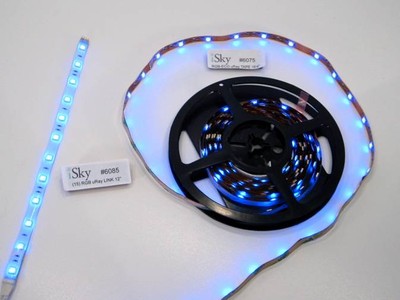 iSky's RGB Controller and receiver is priced at $100 and comes with a 44 button IR remote control. The idea is that you connect the receiver (with its 18" lead) to an end of the lighting and you can them "hit" it with the remote. The IR remote can trigger any of 20 color options half a dozen color modulation modes. You can also custom program the system to do other color changes as well - for instance, modulating between your favorite sports team's colors.
Features
fast and easy to install

available in Blue, Red, Amber, CoolWhite, WarmWhite and RGB Color Changing

can provide neutral bias backlighting of projection screens, prosceniums and flat panel displays