FIA Introduces On3 Pro Mobile Portable Media Player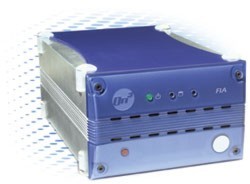 SAN CLEMENTE, Calif., Nov. 3 - Today, First Intelligent Array (FIA, Inc.), announced the FIA On3 Pro Digital Media Player and Library. The FIA On3 Pro is an evolutionary breakthrough in car audio and video entertainment, and doubles as a home media player, making the unit truly mobile. The unit's storage library has the ability to organize and store thousands of CDs, photo files, or more than 30 hours of DVD quality movies in a small compact device that weighs less than 4 lbs.
The FIA On3 Pro can be trunk-mounted, installed under a seat, or in the glove box, and connects directly to your automobile LCD or plasma TV. An infrared full-function remote lets you play your entire music play list or personal video collection while on long travel trips, camping or just riding around town. When you have completed your travel, you can take the On3 Pro into the house, because the unit's mobile design works in the car, in the home, hotel room, or anywhere else you have video and audio outputs. Whether your medium is videos, music or photos, its high quality home theater outputs support both analog and digital 5:1 audio connections, and provides quality sight and sound with HDTV and SPDIF. The On3 Pro can display photo slideshows with music background, and supports most popular audio and video formats.
Company president and CEO Gene Lu said, "The On3 Pro for automobile is designed for technology-savvy customers and auto sound enthusiast who may want to expand their play list and digital entertainment in the car and in the home. FIA's On3 Pro delivers state-of-the-art quality design in both sight and sound, so customers can truly enjoy hours of entertainment. Currently no other vendor provides all these features in a single product at such an aggressive price."
For automobile, easy installation uses ignition key control power for the On3 Pro, connecting directly to your DC cigarette lighter. Music and videos are controlled with an external IR remote control receiver. The unit supports industry standard operating systems in both the Apple and MS Windows environment.
Quick Features List:
Portable unit designed for the road and the living room
Weighs under 4 lbs; fits in the trunk, under a seat or in the glove box
On Demand videos, music and photos
Over 30 hours of continuous digital video, music or photo content
5:1 channel audio sound for theater quality videos and photos
MPEG 1, 2 and 4 and most popular video formats
Supports analog L/R and digital 5:1 audio outputs
Easy to use on-screen controls and easy to use Graphical User Interface (GUI)
HDTV home theater high quality output using Component Video, Standard Composite and S-Video for NTSC and PAL TV
Supports Microsoft and Apple operating systems
Available now, the FIA On3 Pro Media Player and Library for automobile in-car use is a flexible entertainment device that can be purchased at an unbelievably low price, starting at $499 for 80 GBs and $649 for 120 GBs, respectively. All products are suggested retail price and are listed in US dollars. Reseller pricing will vary, and special discounts are available for quantity purchases.
Headquartered in San Clemente, California, FIA, Inc. is a wholly owned subsidiary of WBL Corporation, a billion dollar organization that is ranked among the top 100 companies by market capitalization on the Singapore Exchange Securities Trading Limited (SGX-ST). Additional information about FIA, Inc. can be found by visiting the company's web site at http://www.fiaon3.com .