Extreme Makeover: Audiogurus Edition!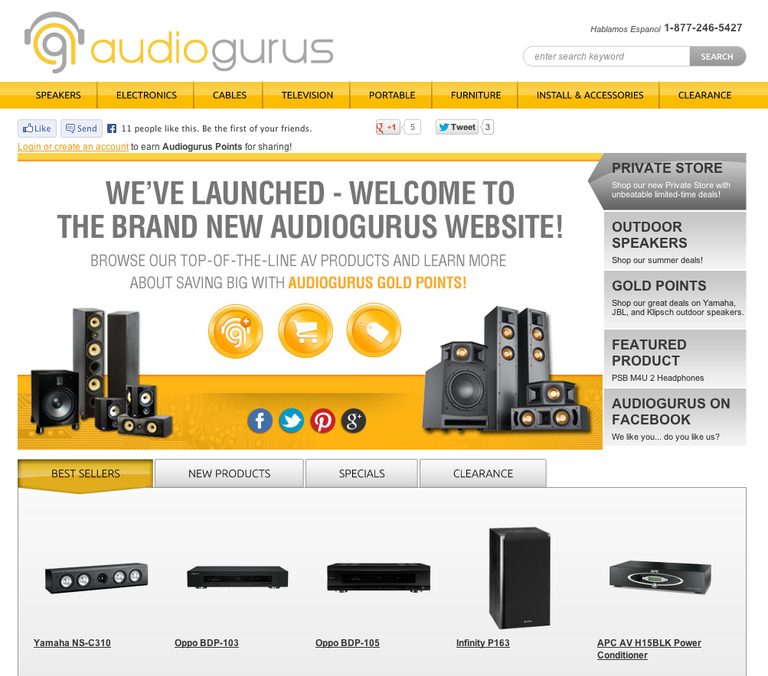 Extreme Makeover: Audiogurus Edition!
The guys at Audiogurus have completely redesigned the storefront to take them into the 21st century with a bang. Recent upgrades include not only a complete aesthetic redesign, but also a fundamental reworking of the entire infrastructure so that customers can have an easier, and more flexible shopping experience. This new system ties in better with inventory, for real-time data on both warehouse and manufacturers & distributors. It also lets you research and build custom systems that you can store for later purchase.
The new store site has a dramatically improved user interface. The design is cutting-edge and appealing, the interface is user-friendly, and the catalog is considerably easier to navigate. Its layered navigation allows users to narrow down which product to purchase by specific features. A customer should be able to locate any product on the website with just a few mouse clicks. The checkout process is also considerably more streamlined as well.
The store will also eventually be rolling out a new Customer Loyalty program whereby you can earn points based on what you buy and also how you interact with the store. These loyalty points can also be doled out for rating and reviewing products on the site, liking the store on Facebook, referring a friend, etc. Customers can then redeem their earned points for specific products in the rewards catalog. They can also use their points as currency, in order to save on future purchases.
Our email and ordering system has also been completely redesigned, so you get more frequent and accurate information at each step of the ordering process.
Audiogurus continues to attract the best suppliers in the industry. In 2011 the store added Denon and Boston Acoustics, and this year it is securing relationships with several more of the BIGGEST names in the industry. It is truly one of the most diverse landscapes of trusted AV manufacturers in the business.
This is going to be a great year for Audiogurus and we're proud to be a part of what they are doing to promote great products and provide unparalleled customer support.
its phillip posts on November 28, 2011 13:27
davidc, post: 844014
I've tried several times over the last few days to use the site. It's slow to the point where I can't use it. I've had to use Task Manager to kill the browser window since it would freeze when I tried to sort or limit my selection.

David
It works just fine for me, just a little slower than I'd like. I'm using Firefox 8. Which browser are you using? Have you tried others?
davidc posts on November 28, 2011 10:52
Audioholics Store not usable

I've tried several times over the last few days to use the site. It's slow to the point where I can't use it. I've had to use Task Manager to kill the browser window since it would freeze when I tried to sort or limit my selection.

David
haraldo posts on November 28, 2011 05:29
Adam, post: 842191
Philosopy aside, that store bears the name and logo of Audioholics, so it's difficult to convince people that the owners of this site have nothing to do with it. That store relies on this site's reputation to sell goods, and this site relies on that store for income. Granted, Gene and others have the legitimate choice to turn a blind eye to how the store owners run the store, but I'll waiger that the average consumer isn't going to know that or care (or if they care, it doesn't actually make them like this site better). When the store claims that cables like the ones linked above will significantly improve system performance, whereas this site will say that they won't, there's an apparent disconnect that I think will (or perhaps has) affected the credibility of this site.

I suggest considering having some influence over the wording in the store's product descriptions in alignment with "pursuing the truth in audio and video." Those cables have good selling points - they are terminated, they are hand made, and they are made in the USA. Value is determined by the consumer, so the price is irrelevant to me, but they should buy them based on an honest description. I don't believe that they will provide "a huge bottom to top performance upgrade like you never thought possible from a cable."

This site was started with a vision in mind that I respect a lot, and I hope that it doesn't get tainted (if only in perception) in order to improve the bottom line. In the end, though, it doesn't affect my view of the site - I just wanted to put out some thoughts for consideration. I come here for the community of great people on this forum, and I like to help out when I can. Others, though, come here looking for help, just like I first did back in 2006.
Very very good points Adam, there's a lot of credibility at stake here……
haraldo posts on November 26, 2011 17:11
Well there are some very nice products here

Although…… I found it strange to look at the tech spechs of the Marantz NA 7004 Network player…..
Obviously some things have slipped through your QA rotines here

guessswh0 posts on November 20, 2011 12:38
that sounds interesting
Post Reply