Epson to Deliver First HDMI 1.3 Home Theater Projector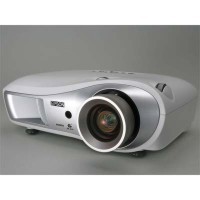 SUNNYVALE, CA - November 28 - Silicon Image, Inc. the leader in semiconductors for the secure storage, distribution and presentation of high-definition content, today announced that it has supplied the HDMI receiver chip for the first home theater projector to be equipped with HDMI 1.3. Epson has selected the VastLane SiI9133 HDMI receiver chip for its new Epson PowerLite Pro Cinema 1080. This is the first HDMI 1.3 home theater projector on the market supporting Deep Color capability. The PowerLite Pro Cinema 1080 features Epson's C2Fine 1080p 3LCD chips, which are capable of displaying 12-bit Deep Color images with a contrast ratio up to 12,000:1.
Epson will begin shipping the HDMI 1.3-equipped PowerLite Pro Cinema 1080 in January 2007. Announced in June, the HDMI 1.3 specification is the most significant upgrade yet to the interface that has become the de facto standard interface for high-definition devices. The Epson PowerLite Pro Cinema 1080 projector is designed to display up to 1920 x 1080p resolution, the highest-resolution HD signal currently available, via HDMI 1.3 input.
"We are very excited to deliver the world's first front projector with HDMI 1.3-capable display," said Aaron Marinari, senior product manager, Epson America. "We believe our customers will literally be stunned when they see the amazing Deep Color image quality the Epson PowerLite Pro Cinema 1080 can render using its 12-bit, 1080p technology."
The VastLane SiI9133, a dual-input HDMI receiver chip, enables HDTVs and home theater projectors to display Deep Color content transmitted by a new generation of consumer products with HDMI 1.3 outputs, such as the Sony PlayStation 3® or Toshiba HD-XA2 HD DVD player. The SiI9133 supports video formats of up to 1080p resolution with 12-bit color depth at a 60Hz refresh rate. The SiI9133 also supports higher refresh rates such as 120Hz when displaying either 720p or 1080i at 12 bits. With 12-bit resolution, billions of colors can be rendered, eliminating color banding seen with 8-bit displays.
The HDMI 1.3 specification more than doubles HDMI's bandwidth and adds support for Deep Color technology, a broader color space, new digital lossless audio formats and automatic audio/video synching capability ("lip sync"). HDMI 1.3 supports 10-bit, 12-bit and 16-bit (RGB or YCbCr) color depths, up from the 8-bit depths in previous versions of the HDMI specification. (Note 10-bit, 12-bit and 16-bit color is also referred to as 30-bit, 36-bit and 48-bit color, reflecting the bit depth of all three colors (RGB or YCbCr) combined.)
"HDMI 1.3 is gaining traction with many of our top tier consumer electronics customers, and we expect to see an increasing number of HDMI 1.3- capable products enter the marketplace in 2007," said Dale Zimmerman, vice president of worldwide marketing at Silicon Image. "By choosing Silicon Image's VastLane SiI9133 receiver, Epson will enable its customers to enjoy high-definition content in billions of colors with unprecedented vividness and accuracy."
About Epson
Epson offers an extensive array of award-winning image capture and image output products for the consumer, business, photography, and graphic arts markets. The company is also a leading supplier of value-added point-of-sale (POS) printers and transaction terminals for the retail market. Founded in 1975, Epson America, Inc. is the U.S. affiliate of Japan-based Seiko Epson Corporation, a global manufacturer and supplier of high-quality technology products that meet customer demands for increased functionality, compactness, systems integration and energy efficiency. Epson America, Inc. is headquartered in Long Beach, Calif.
About HDMI
HDMI is the first and only consumer electronics industry-supported, uncompressed, all-digital audio/video interface. By delivering crystal-clear, all-digital audio and video via a single cable, HDMI dramatically simplifies cabling and helps provide consumers with the highest-quality home theater experience. HDMI provides an interface between any audio/video source, such as a set-top box, DVD player, or A/V receiver and an audio and/or video monitor, such as a digital television (DTV), over a single cable.