Energy Speakers Announces Tempest II Outdoor Speakers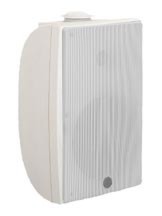 Energy Speaker Systems, a division of Audio Products International, is proud to introduce the new Tempest II outdoor speaker. The Energy Tempest II is a 2-way outdoorindoor speaker, designed to handle the rigors of any climate. The weather resistant design ensures that in any temperament, the Tempest II will perform for years to come. Created with the same design principles as all Energy Speakers, this all purpose speaker performs in any environment, as you demand.
Energy's Tempest II is constructed out of an extremely durable and resonant free molded enclosure, designed to stand up to the elements. The shape of the enclosure is extremely important to the performance of the speaker, but also allows the cabinet to be positioned in a way that is unobtrusive. The 6-1/2" woofer, in its sealed cabinet, is capable of delivering impressive amounts of low frequency information. With incredible detail and authority, the woofer is able to accurately recreate audio in any setting. The 1" dome tweeter offers an extremely broad dispersion pattern, making speaker placement less critical. The combination of deep, powerful bass and a wide dispersion tweeter make the Tempest II perfect for outdoor use, bringing the party to life throughout your patio. No more single sweet spot, your entire coverage area becomes filled with high quality audio. The Tempest II can also be used indoors, in any capacity, be it home theater or for distributed audio.
Quick Specs:
1" soft dome tweeter
6.5" weather-resistant woofer
89dB efficiency
125W RMS recommended power
Frequency Response: 75Hz - 20kHz +/-3dB
Dimensions: 13.125" x 8" x 8.375"
Weight: 7.5lbs (3.4kg) each
The Tempest II includes an integrated mounting bracket and removable grille. The mounting bracket offers unparalleled flexibility in terms of mounting options and infinite adjustment possibilities. The combination of placement adaptability and incredible sound come together in the Tempest II. The Tempest II is available in a choice of Black or White finishes, to match the exterior or interior of any listening area. The Tempest II, available in white or black, will ship in December 2004 with an MSRP of $300 ($400 Canadian). For more information contact Energy Speaker Systems, or visit: www.energy-speakers.com .