Energy Announces New Reference Connoisseur Series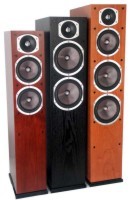 Reference Connoisseur Loudspeakers
Energy Speaker Systems, manufacturer, designer and global distributor of speakers for more than 30 years, is proud to announce the new Reference Connoisseur Series. This striking series fuses the latest in speaker technology and design, along with contemporary styling, to create an industry benchmark. Designed by Energy's chief engineer John Tchilinguirian, renowned for his work as a pioneer in speaker design and sonic accuracy, the Reference Connoisseur series sets a new standard for performance, quality and style. Attention to detail thanks to the research and development that went into designing every component, as well as the incredible craftsmanship that goes into making each cabinet or driver, guarantees that the Reference Connoisseur series will exceed all expectations.
The classic lines of the Reference Connoisseur series are complemented by the real wood, hand rubbed, Black Ash, Cherry or Rosenut veneer finishes. The furniture grade finishes will match beautifully with any décor and will flatter any listener's home. All models are designed to meet and exceed Energy's three acoustic design philosophies; wide dispersion, low distortion and wide bandwidth. Brushed cast metal woofer baskets and face plates, combined with high gloss black bases/plinths further add to the performance and contemporary style of the Reference Connoisseur series. Rigid MDF cabinets are strengthened thanks to Energy's patented InterlocTM bracing system, a computer designed full length brace designed to provide optimal strength without compromising internal cabinet volume.
The Reference Connoisseur series features many patented technological breakthroughs in speaker design, creating one of the best sounding speaker series ever created by Energy. The combination of Energy's chambered 1" aluminum HyperdomeTM tweeter (a technology developed in the Veritas series), our exclusive tapered crossover system and the patented Ribbed Elliptical Surround woofers, work seamlessly to redefine performance within this category. High output and incredible musicality are the result of the patented Ribbed Elliptical Surround, which is used on all woofers in this series. The patented shape of the surround reduces surround distortion from an average of 14% to 0%, while increasing useable piston area. The Elliptical Surround therefore increases speaker efficiency due to its greater surface area and with 30% more excursion than the competition, it creates tighter, deeper bass, with greater accuracy and detail. Exclusively designed ribs are molded into the surround to eliminate surround deformation, a common problem with all drivers. The Ribbed Elliptical Surround is mated to a Kevlar cone that is light, rigid and non-resonant, which creates high levels of detail and sonic accuracy. Instead of using traditional "off the shelf" Kevlar, Energy engineers spent months researching the ideal thickness and weave for a driver, to create the best blend of stiffness and damping. This unique interlace pattern and thickness of material is required to eliminate many of the issues commonly found with Kevlar, including edge-holes and dispersion anomalies. The Kevlar material is further coated with a proprietary resin compound to increase rigidity and uniformity. The aluminum phase plug and vented magnet structure increase the cooling ability of the driver, which augments the power handling of all Reference Connoisseur models. Using a cast basket for a stiff and inert chassis greatly assists in further reducing resonances and distortion that could otherwise exist with materials that are not as rigid and uniform.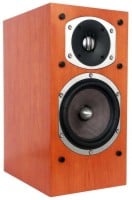 Reference Connoisseur Subwoofers
The all new subwoofers, named the RC-SUB 8, RC-SUB 10 and RC-SUB 12 offer unparalleled style and performance, all from extremely compact enclosures. Finished in the same real wood Rosenut or Cherry veneers as the rest of the Reference Connoisseur series and available in high gloss piano black, all the subwoofers blend perfectly with any speaker in the series. Featuring 5 patented designs, these new subwoofers offer more power, play louder and provide greater sonic accuracy than the competition, while featuring the highest quality furniture grade finishes available. With their 3 driver configuration (1 active woofer and 2 passive radiators), combined with exclusive woofer technology and high powered amplifiers (RC-SUB 8 1000 watts, RC-SUB 10 1250 watts and RC-SUB 12 1500 watts), these innovative and patented subwoofers offer increased performance and output over any other subwoofer of this size and category. In order to extract serious performance from a compact enclosure, Energy's engineers went back to the drawing board, researching how to create thunderous performance from a small enclosure. Their studies revealed that all compact enclosures suffer from a lack of internal cabinet volume, which is unavoidable with such small cabinets. Further research lead engineers to realize that traditional drivers, using a cone, further reduced the cabinet volume so much so that their volume displaced was 30% of the overall cabinet volume. It was therefore concluded that maximizing internal volume would be the difference between mediocre performance and extreme levels of output. Energy's engineers, based on this knowledge, developed and patented a flat panel driver that does not use a traditional cone, thereby maximizing internal cabinet volume, raising the bar for compact subwoofers.
Energy's engineers did not stop there. Thanks to the ingenious bottom mounted input design and conveniently located controller, the subwoofers follow the Reference Connoisseur theme of high quality furniture. Due to the placement of the inputs and controls, users can choose to face the active driver into their listening room, or spin the cabinet 180 degrees to face the active woofer rearwards, which allows the cabinet to look like a piece of furniture. This creates an incredibly clean and stylish setup, blending with any room décor. Unmatched versatility, performance and style only Energy Reference Connoisseur subwoofers can provide.
The Reference Connoisseur series offers the next generation of design and performance from Energy. The Reference Connoisseur series will ship in Summer 2005. For more information contact Energy Speaker Systems, or visit: www.energy-speakers.com.
Reference
Connoisseur
Series

Suggested
USA Retail

Suggested
CDN Retail

Driver
Compliment

Product
Dimensions

RC-10

$550.00 pair

$700.00 pair

2-way 5.5" Bookshelf

13 x 6-11/16 x 10-1/2"

RC-30

$1000.00 pair

$1300.00 pair

2-way dual 5.5" tower

33-1/2 x 6-1/2 x 12"

RC-50

$1500.00 pair

$1800.00 pair

2-way dual 6.5" tower

37-1/2 x 7-3/4 x 15"

RC-70

$2000.00 pair

$2500.00 pair

3-way dual 6.5" with 5.5" midrange tower

39-7/8 x 7-3/4 x 10-1/4"

RC-LCR

$600.00 each

$750.00 each

3-way dual 5.5" with
dual 2" midrange
center/left/right

7-1/2 x 19-1/2 x 10-1/4"

RC-R

$300.00 each

$400.00 each

5.5" rear channel

9-3/4 x 12 x 6-1/8"
Reference
Connoisseur
Subwoofers

Suggested
USA Retail

Suggested
CDN Retail

Driver
Compliment

Product
Dimensions

RC-SUB 8

$900.00 each

$1100.00 each

8" Active flat panel
Dual 8" Passive flat panel

10-1/2 x 10-1/2 x 10-1/2"

RC-SUB 10

$1200.00 each

$1500.00 each

10" Active flat panel
Dual 10" Passive flat panel

12-1/2 x 12-1/2 x 12-1/2"

RC-SUB 12

$1600.00 each

$2000.00 each

12" Active flat panel
Dual 12" Passive flat panel

14-1/2 x 14-1/2 x 14-1/2"