Emotiva-Naxos Instant Audiophile Sweepstakes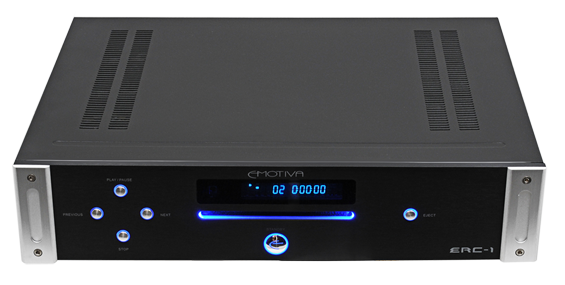 Win an Emotiva ERC-1 Reference CD Player
Emotiva has teamed up with Naxos, a famous classical label, to offer music lovers a chance to experience a new level of listening pleasure, thanks to their Instant Audiophile sweepstakes. Consumers may enter the sweepstakes by visiting www.instantaudiophile.com. On November 5 and December 5, random drawings will be held to determine the winners of an Emotiva ERC-1 reference CD player and $100 worth of music from ClassicsOnline and Naxos. (One winner on each date.)
On January 5, 2011, the two sponsors will hold a Grand Prize drawing for a complete two-channel home audio entertainment system from Emotiva, including the USP-1 stereo preamplifier, UPA-2 two-channel amplifier, ERC-1 reference CD player, and a pair of XSM6.1 loudspeakers, plus $500 worth of music from ClassicsOnline.com and Naxos of America.
"Our passion for true high performance audio is seeded in our love of all types of music, especially classical. It's what drove many of us into the high-end business. As lifelong fans of the music, it's a thrill to be working with a label that caters to classical enthusiasts who appreciate music reproduction at its finest."
- Dan Laufman, President and CEO, Emotiva
"We are constantly talking to our friends and fans about the importance of listening to well-recorded music on sonically accurate systems. Emotiva is one company that is making high performance audio available to a wider market thanks to affordable pricing and irreproachable customer service. For us, there could not be a better partner for the Instant Audiophile promotion."
- Jack Campbell, General Manager, ClassicsOnline, Naxos of America
Emotiva's ERC-1 reference CD player ($399) is considered to be one of the audio market's premiere Redbook CD players, featuring separate, shielded power supplies for the CD carriage, display, and digital and analog sections, ensuring lifelong noiseless operation. Top-shelf components include an Analog Devices 1955 DAC, with 384k oversampling, and 1V rms (7V peak for extended dynamics).
About Emotiva Audio Corporation
Emotiva Audio Corporation (www.emotiva.com) is a designer, manufacturer and marketer of high performance audio and video products. Outstanding performance and impeccable customer service has helped build a strong, dedicated following among the most demanding music and movie lovers.
The company invests extensive resources into engineering, development, and quality, the sum of which is reflected in every amplifier, pre-amplifier, processor/controller, audio source, and loudspeaker system bearing the Emotiva name, assuring end-users an entertainment experience on a par with systems costing significantly more.
About Naxos of America
Headquartered in Franklin, Tennessee, a suburb of Nashville, Naxos of America is the #1 independent classical music distributor in the U.S. Specializing in state-of-the-art distribution, marketing and promotion, Naxos of America distributes nearly 20,000 SKUs to traditional brick and mortar retail, as well as offering a comprehensive suite of services tailored to consumer direct fulfillment. Naxos of America is also the largest digital distributor of independent classical music, supplying a catalog of over 25,000 albums to hundreds of digital download and mobile outlets worldwide.  Naxos of America offers marketing, e-marketing, publicity, e-publicity, physical and digital e-commerce services, licensing opportunities, streaming services, sales and customer service for all new releases and active catalog titles of Naxos Records and more than 100 distributed labels.