Elite Osprey Tension Dual Mode Projector Screen Preview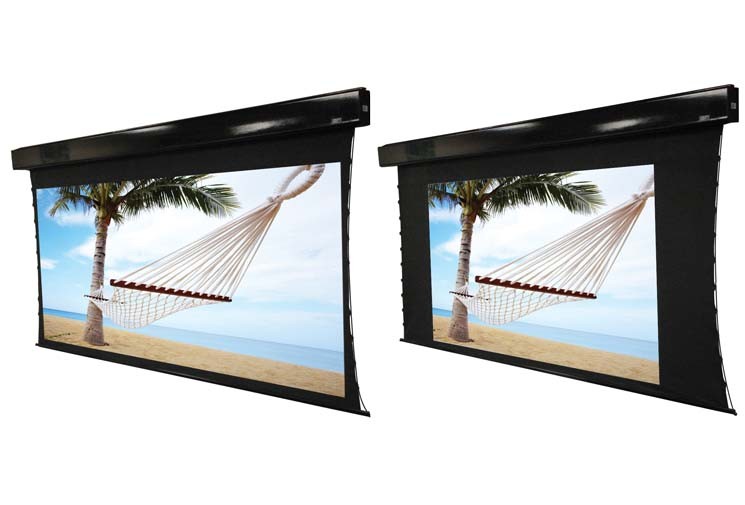 Osprey Tension Dual Mode Projector Screen
For those who didn't get to CEDIA, you missed seeing Elite Screens new Award Winning Anamorphic projection screen. The Osprey runs two separate motorized projection screens, a native 2.35:1 (Cinemascope) and a 16:9 (HDTV) in tandem with lens memory to accommodate the variable modes of an anamorphic projector. The screens are spaced at a 12mm interval to minimize any perceivable depth of focus distortion. In addition to this, the Osprey is pre-set to maintain a centered image aligned with the projector's lens memory.
The Osprey utilizes Elite's award winning CineWhite 1.1 gain, matte white tension material.  It has wide diffusion uniformity and a black backing to eliminate light penetration.
As is customary with Elite's electric screens, a full control package is included with Infrared and Radio Frequency receivers, IR and RF remotes, an RJ45 port for input and operation with the included external wall switch or extended IR "eye" receiver.  When other manufacturers are charging extra for such features, Elite Screens includes these as standard to the customer at no extra charge.
The Osprey Tension Dual comes pre-assembled and ready to install utilizing its sliding wall brackets for quick and convenient positioning in line with wall studs.
Sizes are available from 97 to 133" in 2.35:1 and 78" to 106" in 16:9 with optional in-ceiling trim kits available as well. In addition, models with extra top masking for high-ceiling installations are also available.
For more information about Elite Screen's various product lines, please visit the website at www.elitescreens.com.
smurphy522 posts on November 18, 2010 14:24
As a follow up I wanted to provide some more information, links below:
Here is a link for the
brochure
and the
user-guide
I have gotten confirmation of MSRP for the 117/94" model DTE117C94H : $2939 and available around Mid December 2010.
Overview of them is
here
Cheers!
smurphy522 posts on November 08, 2010 12:59
Looked at their site for more information on this line. Seems like a nice alternative to having two screens (which I am contemplating). No information regarding pricing and availability yet.

I was a little surprised they do not have a trigger (5-12v) input to activate either of the screens or the selection of one or the other. Just done via IR? Oh well it would have seemed they could have done that rather inexpensively. That will be a consideration.
Post Reply