ELAN g! Series Home Control System Preview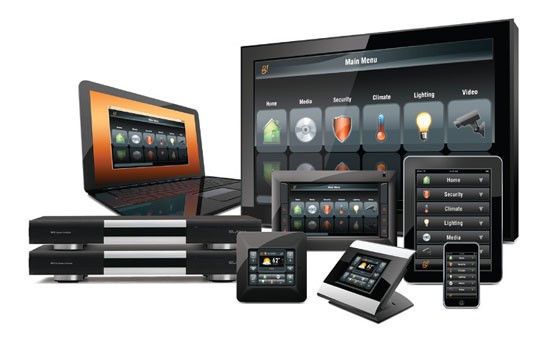 ELAN g! Series Home Control System
ELAN Home Systems announced that its ELAN g! Series Home Control System is shipping worldwide with built-in multi-language support. The revolutionary IP-Based, whole house entertainment and management solution includes the HR2 handheld remote, TS7 7" in-wall Touchscreen, HC12 and HC6 controllers, TS2 touchpad and its VL2 tabletop kit, plus g! Mobile iPhone app and new precision panels. The ELAN g! Series Home Control System provides users with a uniform and intuitive, icon-based control from their favorite devices including TVs, touchscreens, touchpads, PCs, iPhones, and iPads. The standardized interface works across platforms, so that the trendy g!Mobile app that users love on the iPhone appears and works similarly on ELAN touchscreens, valets and handheld remotes as well as users' televisions and mobile devices. And the system's IP backbone makes it just as easy to control the system from across the room - or across the globe.
Individual "apps" for each subsystem allow the user to control security, climate, lighting, media, irrigation, pool/spa, messaging, video and photos with the flick of a finger. Access is fast and secure through any ELAN home interface or globally with mobile Internet enabled devices like the iPhone, iPod Touch, iPad, Netbooks, and PC Tablets. Since the intuitive interface empowers users with personalized scheduling and detailed history views, high consumption subsystems like lighting and climate can be closely monitored and managed for a greener lifestyle - and substantial energy savings.
The g! system's new crown jewel is ELAN's first-ever handheld remote control, the HR2. This striking extension to the product line has all the function of a touchscreen packaged in a sleek 1-inch thick remote that weighs a mere 8 ounces. Its stylish, ergonomic design feels at home in your hand and is ready at a moment's notice with a built-in accelerometer that instantly turns the HR2 on when you pick it up. Integrated Wi-Fi and IR ensure both rich metadata content as well as speedy local control of sources and TVs.
Nearly 6 months of R&D went into the button layout alone - with 43 backlit buttons logically arranged in a very pleasing and easy-to-use configuration. Three hot keys provide instant access to commonly used features like the now playing screen, media guide and remote's home page. But the real magic is in the 2.4" OLED touch display that provides the perfect blend of feedback and control to complement the hard buttons required for easy TV viewing.
The 320x240 display boasts crisp, clear graphics and delivers quick-touch access to every subsystem in the home. Part of the remote's appeal is the gentle and artistic sculpting of the bottom and back so that depth quickly goes from one inch in the palm to a half inch midway up for an easy and balanced grip. Its Lithium Polymer battery powers the remote for ten hours with the display on and 14 days on standby. A stylish charging base is included and keeps the HR2 in a handy upright position - ready to grab-and-go with minimal storage space.
The TS7 touchscreen takes the g! experience in-wall with a high-resolution, 7" LCD display for control of all g! and subsystem features. The latest in LED backlighting technology ensures a bright, long-lasting image while conserving energy. Searching music and movie libraries has never been easier thanks to intuitive touch navigation and brilliant cover art. And like ELAN's legacy touchpanels, the TS7 features live, full-screen analog video for security cameras and TV preview. Six hard-buttons are available for commonly used functions, while an integrated microphone and speaker enable convenient messaging features. The touchscreen also comes with brackets and back-boxes for new construction and "dog ears" for easy retrofit installations.
At the core of the g! system are two new home controllers, the HC12 and HC6. These new controllers represent the intersection of all that g! has to offer with amazing on-screen interfaces, robust connectivity and an expansive two-way driver collection. In addition to integrated connectivity for RS232, RS485, relays, and IR, these controllers extend the g! experience to the big screen through a high-resolution, 720p on-screen component video display. This On-Screen Display (OSD) allows users to control all aspects of their home from the TV using the same uniform g! interface, without any additional hardware or expense. Also included is a built-in photo viewer which turns the TV and associated control interfaces into a digital picture frame. And music aficionados will love the built-in audio server capability (Network Attached Storage [NAS] drive required for HC6 controller) and optional internet radio streaming services.
ELAN is also shipping their new g! precision panels which help to make system installations easier than ever with a clean, professional and trouble-free trim-out of wires and cables. Featuring clearly labeled rear panel punch downs and front panel jacks for every system connection, these panels bring order to your installation. This saves installation time by eliminating misconnections and making trouble-shooting fast and efficient. These panels can be mounted in-wall or in a standard 19 inch wide equipment rack.
ELAN is also shipping its TS2 Film Interactive OLED Touchpad and the VL2 tabletop kit, as well as the highly regarded g! Mobile App for the iPhone. The TS2 has already proven to be a very popular control interface prominently featured in all of the trade publications and built around ELAN's category-defining Olé Touchpads with over 30,000 sales since its inception. The TS2 marries keypad functionality with the display capability and power of a touchscreen for an affordable way to control the home, plus adds a unique viewer app that provides security, lighting and other control means not available on Olé products. The double-gang TS2 features a 2" high-resolution OLED display and offers unprecedented support for audio with full navigation and 2-way feedback, control of lighting scenes, climate control, and security arming/disarming. It also displays real-time weather, forecast and time of day setting a new standard for affordable control with feedback. The VL2 quickly converts the TS2 Touchpad from an in-wall to a tabletop controller.
"ELAN has been one of the pioneering Brands in the industry and the unveiling of the complete 'g!' solution at this year's ISE represents the pinnacle of our twenty year history," said Starkey. "'g!' is a simple concept - making whole house technology work for all the family with a fun-to-use interface that is consistent across devices like the iPhone and iPad. It is a seamless home entertainment and management solution that simply works — and works simply, for both dealers and consumers. Dealers will love the fewer callbacks and remote technician features that empower both our dealers and customers."
ELAN HR2 Handheld Remote Control

All the speed, response & graphics of a touchscreen

All the ease-of-use, simplicity-of-programming & affordability of a remote control

43 backlit Hard buttons 3 additional programmable buttons

2.4" OLED display

Noiseless accelerometer for activating LCD and backlight

802.11g communication provides robust metadata feedback

IR blaster for line-of-sight control

Quick & easy programming using the ELAN Configurator

Compatible with all g! System Controllers

Ships standard with battery and charging base

Controls all AV sources with metadata feedback for supported devices

Controls security, lighting, and climate with metadata feedback

Supports all drivers that run on other g! interfaces

ELAN TS7 - 7" Touchscreen

7" high-resolution, LED backlit display

IP-based, providing rich content

Hard-buttons for commonly used functions

Microphone and speaker for messaging

Full-screen, live video

"Dog ears" for retro-fit installations

Brackets and back-boxes for new construction now available

ELAN TS2 - Film Interactive Touchpad

Double-gang touchpad with 2" OLED display

Supports one audio zone with full navigation and feedback from all supported sources

Controls lighting scenes configured on a single lighting keypad

Adjust temperature and modes of a single thermostat

Arming and disarming of a single security partition

Displays current weather and forecast

ELAN HC12 Controller

12 RS232, 12 IR, 2 RS485, 2 VIA!Net, 6 Sense, 4 Relays, 2 USB

720p HD-OSD with loop-thru component video

250GB Hard Drive for Music Storage + NAS support

Discrete audio outputs for music server

ELAN HC6 Controller

6 RS232, 12 IR, 2 RS485, 2 VIA!Net, 6 Sense, 2 Relays, 2 USB

720p HD-OSD with loop-thru component video

No built-in Hard Drive, NAS support

Discrete audio outputs for music server

About ELAN Home Systems
Since 1990 ELAN Home Systems has been an industry leading manufacturer of innovative, award-winning Multi-Room audio/video systems. ELAN systems were the first to integrate audio, video, phones and third-party products to create a seamless, easy-to-use "whole house" solution. ELAN systems and products are distributed through a comprehensive channel of select Dealers and Distributors throughout the United States, Canada and more than 58 countries worldwide. ELAN Home Systems is part of The AVC Group.  To learn more, visit http://www.elanhomesystems.com.