Edifier Debuts Esiena iF360 All-In-One Audio System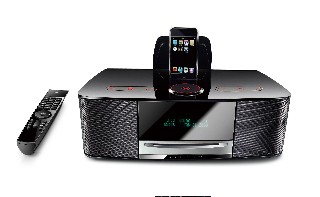 Edifier Esiena iF360
Presenting a feature-rich home audio solution provides a multitude of audio applications with uncompromised quality, Edifier today introduced the Esiena iF360 all-in-one system featuring touch controls. Adaptable and facile, the iF360 will play from multiple sources with excellent speaker quality using the unique 'Nautilus' speaker. Meant primarily for a small or medium-sized room, the lightweight all-in-one unit adds the perfect touch to any prominent bookshelf for MP3 playback, next to the television for a sound boost or in the bedroom for an alarm clock.
Sporting a black lacquer finish on the top and back of the iF360, the product stands alone for its classy appearance. The sleek, glossy sound system not only provides iPod and FM digital radio functions, but also has a set of RCA R/L input jacks, an SD card reader, a USB port, a video out, a CD player, MP3 and WMA support, and digital alarm clock functions. With the ability to use any form of audio source on the iF360, there is no hassle in owning multiple audio components.
"Edifier's philosophy works around 'A Passion For Sound' and clearly, with the iF360 we have stayed true to our reputation for superior sound quality," states Anthony Wilkinson, senior vice president, Edifier. "'The iF360 offers the complete home audio solution with its versatility and magnificent design!"
For a small device, the iF360 plays music with a clear treble and full bass through the system's two 25W speakers - providing little to no distortion when the volume is turned up. The integrated FM radio receives signals with ease and provides clear reception. Adding to its unobtrusive design, the iF360's red-touch-sensitive navigation buttons illuminate on the top of the unit while the front of the unit adorns a high-intensity dot matrix VFD to show settings related to the mode in which the iF360 is set. The iF360 also uses the "Nautilus" speaker, a bass frequency response enhancer that improves overall audio quality.
About Edifier International
Edifier International is a leading global designer and manufacturer of award-winning audio speaker products that feature contemporary design and high sound quality. Founded in Beijing in 1996 and with offices in Vancouver, Hong Kong and Buenos Aires, Edifier has sales in more than fifty countries and has become a world-class international audio components manufacturer providing unique, inspirational, visually elegant and functional audio solutions for home, consumer electronics and PC multimedia applications. Now with 3,000 employees producing more than eight million sets annually, the company has won numerous international design awards, including breakthrough CES Innovations Design and Engineering Awards (CES 2008 (two awards) and CES 2010 (one award)) in the U.S.; iF Product Design awards in 2008 and a Red Dot Design Award (MP300 Plus and Luna2 E20, 2009) in Germany; and a Good Design Award in Japan in for MP300 Plus in 2008. For ore information please go to www.edifier-international.com
KEW posts on September 03, 2010 11:25
Clint DeBoer, post: 748133
Of course I think the ocean and perhaps Jules Vern could sue them all…
Let's not forget this guy!
Rickster71 posts on September 03, 2010 08:39
Any mention of a price?
No prices on their site either; though it says, "*product to ship in September 2009"
Davemcc posts on September 03, 2010 07:46
The trademark they should have used is probably "Waveguide".
Audioholics posts on September 03, 2010 06:38
Of course I think the ocean and perhaps Jules Vern could sue them all…
cwall99 posts on September 02, 2010 16:47
Does B&W know about this????

Interesting line from the article:

the iF360 will play from multiple sources with excellent speaker quality using the unique 'Nautilus' speaker.

Now I know B&W isn't litigious in the way Monster Cable is litigious, but this, unlike the law suits Monster initiates, seems like theft of B&W's intellectual property. And since they're both speakers, then the case seems even more clear cut.
Post Reply