Dolphins Stadium Gets World's Largest HD LED Video Display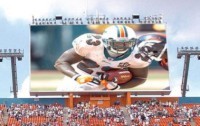 Daktronics Inc. of Brookings, S.D.,announced today that it has been awarded a contract to design and build the world's largest high definition (HD) light emitting diode(LED) display for Dolphins Stadium in Miami.

Daktronics has been chosen by Dolphins Stadium to provide two large ProStar® video displays, each with true, physical pixel resolution exceeding the 720p high definition television standard of 720 pixel by 1,280 pixel resolution. The largest of the two displayswill be the largest of its kind in the world. The project is scheduled to be completed in time for the 2006 baseball season.

The facility will be the first NFL venue to implement true HDlarge screen video. Sports fans are becoming accustomed to watching their teams on high definition broadcasts. Now fans in Dolphins Stadium will see incredible, high resolution, crystal clear, live video and replays on the new digital displays behind each end zone.Both ProStar® screens will incorporate an even wider aspect ratio than the 16x9 widescreen ratio of HD television, and will give fans a wider, more panoramic view of the action. With their superb resolutionand super wide format, the displays will also have the ability to show multiple images simultaneously.

Behind the east end zone, a Daktronics ProStar® display will be installed on the existing scoreboard structure. This display will measure approximately 50 feet high by 137 feet with a true resolution of 736 pixels high by 2,112 pixels wide. Full-screen images shown on this display will be comprised of more than 1.5 million pixels, made from more than 4.6 million red, green and blue LEDs. Upon completion, this display will become the world's largest high definition video display, surpassing one installed earlier this year that was recognized as the largest by Guinness World Records. The largest of the two ProStar® displays at Dolphins Stadium will be nearly 20 percent larger than the current record holder.

Behind the west end zone, a second large ProStar® display will be installed. This high definition display will measure approximately 50 feet high by 99 feet wide, and will be mounted to the existing support structure.

"Daktronics is very excited about the opportunity to bring true HD large screen video to a great venue like Dolphins Stadium," said James Morgan, President and CEO of Daktronics. "This will add another dimension and greater entertainment for the fans. With this upgrade, Dolphins Stadium will claim the world's largest HD video screen, which will be a landmark for video display technology."

"As a football fan who has attended Dolphins games, I can say the game-day experience is already exceptional," said Brent Stevens, Daktronics Regional Sales Manager for Large Sports Venues. "The installation of these two revolutionary displays will enhance that experience even further by allowing Dolphins fans to see images unsurpassed in any venue in the world."

"From home televisions to the way TV networks broadcast football games, the sports and entertainment industries are moving to high definition video equipment, and now is a great time for Dolphins Stadium to implement this significant transition," Stevens said. "Fans will be amazed with the image quality of the ProStar screens."