Disney Portable and Stylish Tech Gifts for Kids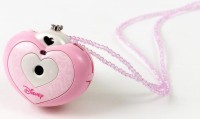 BURBANK, Calif. - Oct. 6, 2005 - This holiday season consumer electronics will once again top kids' wish lists. The new line of electronics from Disney Consumer Products (DCP) will fulfill their wishes for all things tech. Parents can help develop a child's artistic talent with new Disney wearable digital cameras and karaoke machines; keep them entertained for hours with new Disney personal DVD players and MP3 players; and add a personal touch to their rooms with new Disney-themed TVs and DVD players.
The new line of kid-friendly products features Disney-themed designs for boys and girls and is durably built and ergonomically designed for use with smaller hands. The following is a list of the hottest must-have items this holiday season from Disney Electronics.
Unleash her inner artist
Disney Princess Locket-Style Wearable Digital VGA Camera (5 & up): This unique camera is easy-to-use, very compact (45 X 55 mm), and dangles beautifully from a pink, beaded necklace doubling as a fashionable accessory. The camera features VGA 640 X 480 still image resolution, can store up to 50 digital pictures in its built-in 8 MB SDRam and uses a built-in, rechargeable lithium battery. Girls can take a digital photo, print it and place it in the locket to proudly show it off. The camera is compatible with Windows 98SE, ME, 2000 and XP. (Available at Sears, Toys 'R' Us in September for a suggested retail price of $29.99.)



Cinderella Carriage Style Karaoke Player (6 & up): Little Cinderellas can sing at the ball! Available in blue and pink and shaped to resemble Cinderella's carriage, it plays audio CDs, CD+G, CD-R and CD-RW discs and can also be plugged into any TV so that aspiring princesses can follow along with the words. Features two microphone jacks for sharing the fun with family and friends. Includes A/V cables and a demo disc. (Available exclusively at Toys 'R' Us in October for a suggested retail price of $39.99.)
Keep them entertained for hours
Disney Mix Stick Audio Players (6 & up): Easy to use and creatively designed, the Disney Mix Stick digital music players play MP3 and WMA audio formats. Kids can download music using standard music downloading software or copy from a CD to its built-in digital memory. For easy entertainment on demand, without a PC, kids can also use a built-in SD/MMC card slot to listen to Disney Mix Clips



tiny plug-and-play add-on memory cards with near CD-quality music of popular albums from Walt Disney Records. Disney Mix Sticks feature 128 MB of internal storage, an expandable SD/MMC card slot, stereo ear-bud style headphones, a built-in "direct connect" USB 2.0 connector, standard headphone jack, Windows Media Player Software and a lanyard with safety release. PC and Mac compatible, Disney Mix Sticks come in four different styles: Disney Chrome (modern/sleek look), Forever Princess (Pink/Purple), Tinker Bell (Sassy Pixie in Purple/Green) and "That's So Raven."

Available separately are 4 titles of Mix Clips: Disneymania 3, That's So Raven, Ultimate Jams and Channel Hits Take 1. Also designed for use with a Mix Stick, the Disney Jam Stand stereo speakers/re-charger with magical lights plays music while recharging. Additional accessories include: clip-style and DJ-style headphones and two protective carrying cases in pink or dark gray. (Available in mid-October nationwide at Target, Sears, Limited Too and Wal-Mart.com for a suggested retail price of $49.99 for the Mix Stick, $12.99 to $14.99 for the Mix Clips, and $9.99 to $39.99 for the accessories).



Disney Personal DVD Players (4 & up): Compact, rechargeable and easy to use, the new Disney 3.5" Handheld Personal DVD Player is available in a variety of styles, including Classic Disney (red/white), Ink Style Mickey (vintage comic book look), Disney Princess, Power Rangers, and a "Flower Power" style with a pink and purple design for 'tween' and teen girls. Also available is a larger 7-inch model with an open-and-close clamshell lid for personal or family use. The new players are format friendly and can play any DVD, CD, and MP3 and JPEG files on disc. These players include built-in speakers, built-in rechargeable batteries, and 2 headphone jacks. (Available now at major retailers nationwide for a suggested retail price of $119.99 for the 3.5-inch model and $149.99 for the 7-inch model.) Classic Disney style headphones are available as an add-on accessory for a suggested retail price of $14.99.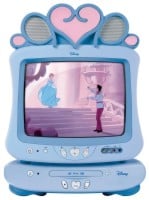 Personalize their rooms
Cinderella-Themed TV: Add a touch of royalty to her room. In celebration of the first-ever DVD release of Cinderella Platinum edition in October, Disney has designed a Cinderella version of its popular Disney Princess TV. Designed in soft blue and pink and topped with a crown of dazzling, tiara-shaped speakers, features include: stereo sound for external sources such as DVD and video games, a 13" color picture tube, 181 PLL channel tuning, closed caption decoder, trilingual on-screen display, front and rear A/V jacks, sleep timer and V-chip function. A full function remote control is included. (Available in October at Toys 'R' Us and Wal-Mart for a suggested retail price of $99.99.)



Pooh-Themed TV: This adorable TV is perfect for any small child's bedroom. It's red and honey-yellow with built-in speakers and a Pooh and Tigger on-screen user interface. Specs and pricing are the same as the above-mentioned Cinderella-themed TV. (Available in October exclusively at KMart for a suggested retail price of $99.99.)



Cinderella and Winnie the Pooh DVD Players: Features custom Disney character screen saver and startup screen, DVD/CD/CD-R/CD-RW playback, S-Video, parental lock function, and two remote controls (one for adults, one simplified for kids). (Available in October for a suggested retail price of $69.99; the Cinderella DVD Player will be available at Toys 'R' Us and Wal-Mart and the Pooh DVD Player will be available exclusively at KMart.)
"Today's kids are growing up with technology, and it is integral to how they play. They want the same functionality that their parents have, not a toy version. But they also want devices that are fun and let them be kids," said Chris Heatherly, vice president, Global Electronics for Disney Consumer Products. "Our electronics line strikes the perfect balance between play and performance, delivering high quality electronics in an undeniably Disney way that kids will love."
Products are designed by Disney and manufactured by Memcorp, Inc. and will be available nationwide at major retailers such as Wal-Mart, Target, Toys 'R' Us, and Kmart as well as http://www.DisneyShopping.com .
For more information please visit http://www.disneyconsumerproducts.com .
About Disney Consumer Products
Disney Consumer Products (DCP) is the business segment of The Walt Disney Company (NYSE:DIS) that extends the Disney brand to merchandise ranging from apparel, toys, home decor, stationery and books to interactive games, food and beverages, electronics and animation art. This is accomplished through the work of DCP's various lines of business: Disney Toys, Disney Softlines, Disney Hardlines, Disney Home, Disney Publishing, Buena Vista Games, Baby Einstein and The Muppets Holding Co. The Disney Store, which debuted in 1987, also falls under DCP, through stores currently owned and operated by unaffiliated third parties under licensing agreements in North America and Japan, and wholly owned by Disney in Europe.
About Memcorp, Inc.
Since the early 1970s, Memorex has been one of the most widely recognized and trusted brands. Today, Memorex is an industry leader in consumer electronics, digital media and computer accessories. Memcorp, a privately held corporation, manufacturers and distributes Memorex consumer electronics. Memcorp is headquartered in Weston, Fla., with additional offices in Hong Kong, Taiwan, Toronto, St. Louis and the Dominican Republic. For more information on Memcorp Inc. and its products, please visit the company's web site at http://www.memorexelectronics.com .